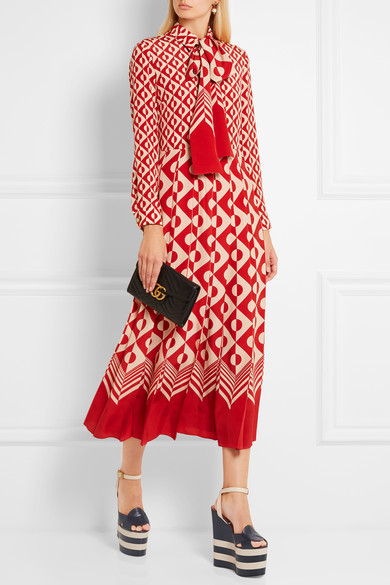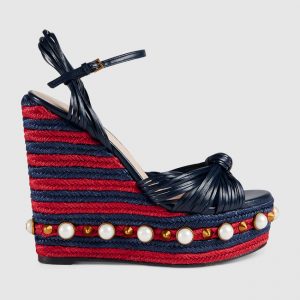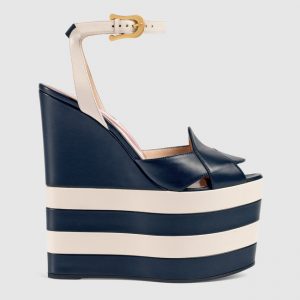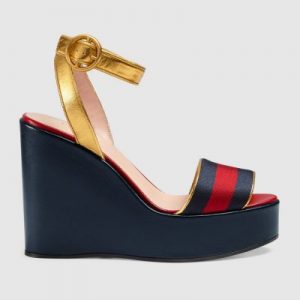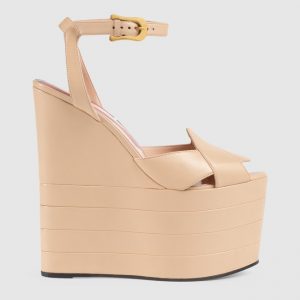 Italian luxury brand Gucci breathes new life into the concept of platform footwear with its leather platform sandal available in white/navy stripes, navy/red stripes, dark navy/red with horse bit, black, and sand. If you plan a vacation, winter holiday, or cruise, this extravagant sandal deserves a place alongside your maxi dresses, bathing suits, and cover-ups. Per the brand's commitment to fashion influence, each detail of its platform sandal adds to the shoe's dramatic sex appeal. Continuing the season's animal-inspired theme (see the brand's kangaroo fur-lined loafers and zebra pumps with fur), these 4-inch heel and 3-inch platform sandals feature a printed snake slithering along the insole. 
While the boldness of platform draws the eye's attention, you can't help but notice the feminine peep-toe top and demure ankle strap crowning the shoe. The outrageous height and timeless design strike a clean balance between innovation and class.
Choose the navy-and-white-striped platform design with a navy blue heel and white straps for a nautical theme. The sand color offers the perfect balance of pinkish brown and cream for neutral elegance. A third color, black (we still love deep navy suede), brings classic sophistication to this outlandishly high platform heel.
The impracticality and lavish leather features of the shoe will very likely make you want to don sunglasses inside and sip on Kopi Luwak (the most expensive coffee in the world) – not because you need any of it, but because you can. Click on any of the links above to add a pair of Gucci's leather platform sandal to your wardrobe. Click the purple links to indulge!