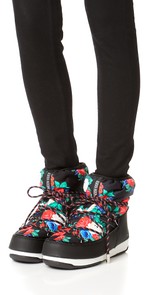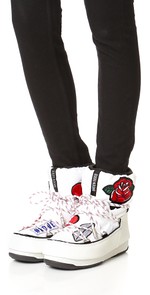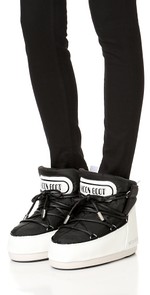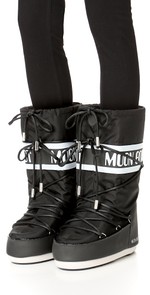 The winter season is in full swing! I'm hearing some yays and nays. Either way, you're feet need to be warm! Certain pieces you can't live without especially if you live in my neck of the woods. What better way to tackle freezing cold weather, snow, ice, melting snow, and lousy weather than with comfy, warm, waterproof boots. Not only do they serve a purpose…they are winter's effortlessly-chic cool boots for daily wear or apres' skiing. I'm having a difficult time choosing which easy-to-wear pair is for me.
The decision is made. Since "Guns and Roses" are one of my favorite groups the white boots with "the rose patches" are my choice. There's nothing like comfy, super cute (nylon and rubber) boots that can be worn all season. They're simply fabulous! Perfect for late fall, winter, and early spring! Probably will wear them in the summer, too!
The boots as seen above…Moon Boots with a floral design, Moon Boots in White with whimsical patches, Moon Boots Buzz in black and white, and lastly the Black and White Classic Moon Boots. The laces are crisscrossed…all you need to do is step in and tie. The sizes are going quickly. It's a good idea to click the purple links or the actual boots to indulge. Your feet will thank you! No more freezing toes. There's nothing worse than toes that are so cold you can't feel them! Complete the look with a timeless Moncler coat.