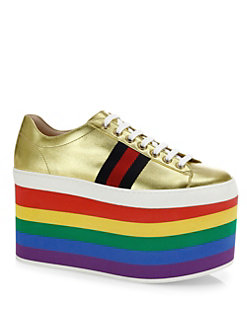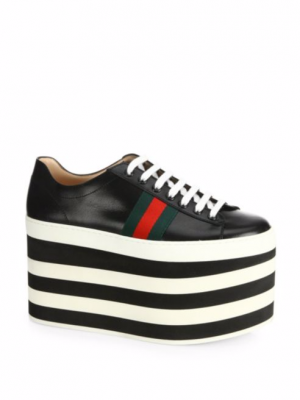 Focus: Gucci Platform Sneakers, Peggy Leather Black/White
From heavenly fur-lined slippers to take-charge heels, Gucci pushes the fashion envelope. The iconic brand's Peggy leather platform sneaker in black and white delivers a bold, yet casual statement – never for the faint of heart. Wear the black and white stacked sneakers with your favorite skinny jeans or joggers. Find confidence in this elevated version of the world's favorite sneaker.
This winter, Gucci's lineup offers a range of styles as diverse as the holiday menu at Starbucks – and with less political controversy. Luxurious, fur-lined Princeton loafers and attention-winning leather platform pumps contrast with the leather platform sneaker in a deliciously stylish way – from the sublime to the absurd. Gucci continues to define sex appeal year after year. Feel daring, casually elegant, and in charge in the season's hottest styles.
These Gucci platform sneakers deliver visual interest in a classic black and white scheme and the Peggy Metallic Leather Platform Sneakers. While vaguely reminiscent of an Oreo cookie (black and white platforms) or the Reversi-like game, Othello, the shoe erases the form and function of any traditional "Gucci" sneaker. Running and agility-averse, the tribute to a sneaker works better for strolling and being seen.
Revel in Gucci's statement on beauty vs. function with the Peggy leather platform sneaker in black/white, the Princeton loafer, and leather platform sandals. These shoes aren't for everyone.  They are for the innovators, the statement makers, and the indulgent fashionistas of the world. Click on the purple links to add a pair of these most covetable shoes to your wardrobe. The white studded ace sneakers are pretty cool, too! You know you love the zebra striped fur slides. The choice is yours!
Like this Gucci Platform Sneakers feature? Click here for more platforms feature!