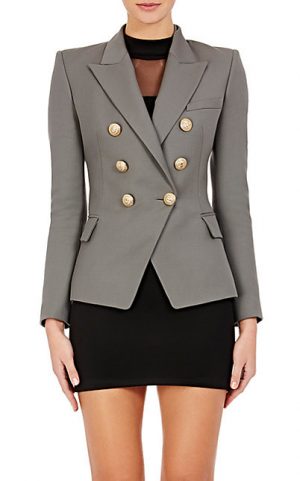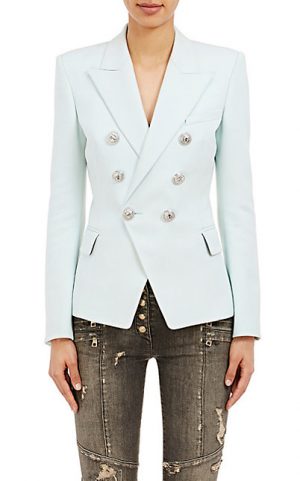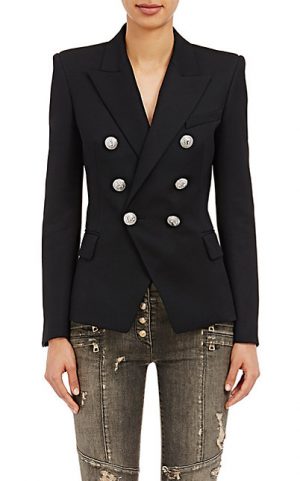 While these stunning Balmain blazers are anything but classic with their padded shoulders, high styled double-breasted look, small cinched waist, peak lapels, and button motif, there is something very classic about them. The blazer is instinctively classic (with its signature lion buttons) in its own right.
They vary from season to season with the slightest changes in fabrics and colors. We love the grey wool blazer with gold-tone buttons, the black wool blazer with silver-tone buttons, and lastly the seafoam wool blazer. Very hard choices! Decisions…Decisions. The blazer is very cool in the design.
The jacket looks just as great with destroyed denim as it does with sleek leather pants or a form-fitting skirt. Remember you can always #wearityourway. I own the jacket in black wool with gold buttons and wear it every chance I get even in 90-degree weather…that's how much I'm obsessed with this blazer which I'll have for years to come. If you're like me and you're spending that amount of money ($$$$) on an article of clothing you want it to be seasonless. So many "of-the-moment" pieces can't be worn next year. (I mean there's no law prohibiting this, but you get my drift) If you're ready to indulge in one of these (or more) click the purple links or the actual images to own.
Be sure to visit AFGG Boutique by clicking this purple link to see a variety of these jackets and many new items that are added daily.
Click the pink links to shop Balmain
XOXO,