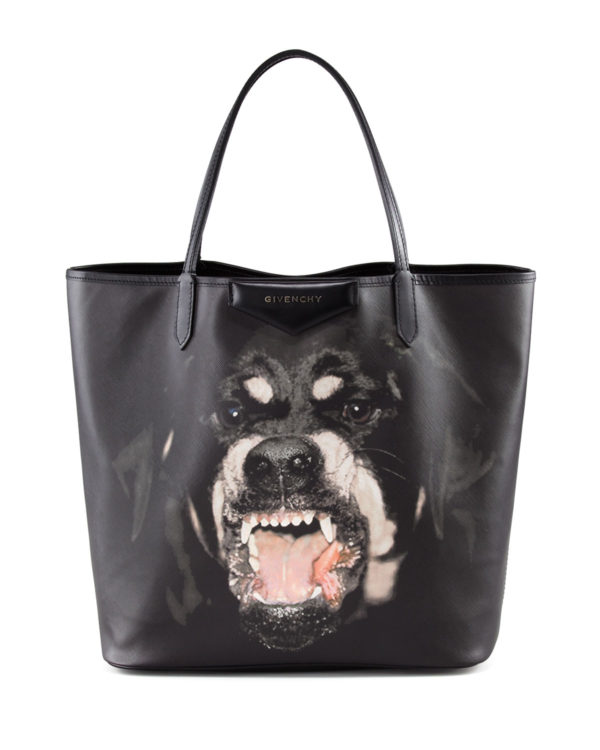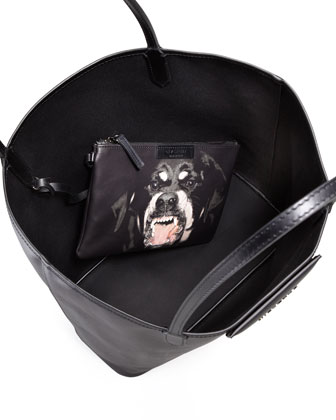 I'm having trouble understanding why anyone would buy a tote bag with a picture of an "effing" Rottweiler on it. I don't know if I'm more freaked out by the ferocious dog or the bag. I'm not a dog lover but my biggest question remains….what was designer, Riccardo Tisci thinking when he doggedly designed this bag?
Hard to believe this Givenchy has been around since 2012 and gaining popularity. The bag is definitely eye-catching and petrifying at the same time. I'm completely overwhelmed by Givenchy's Antigona Rottweiler Tote Bag. It's not only scary but I'm growling at the  price…over $1000.
If you can't get enough of this FUGLY bag made of PVC with the two top handles you can open it up for another look at the Rottweiler's face on the interior wristlet. This bag has just as much bark as it does bite….click the link to indulge if you dare! FYI…the bag will surely hold all your goodies and features the Givenchy signature logo…big WOOF.