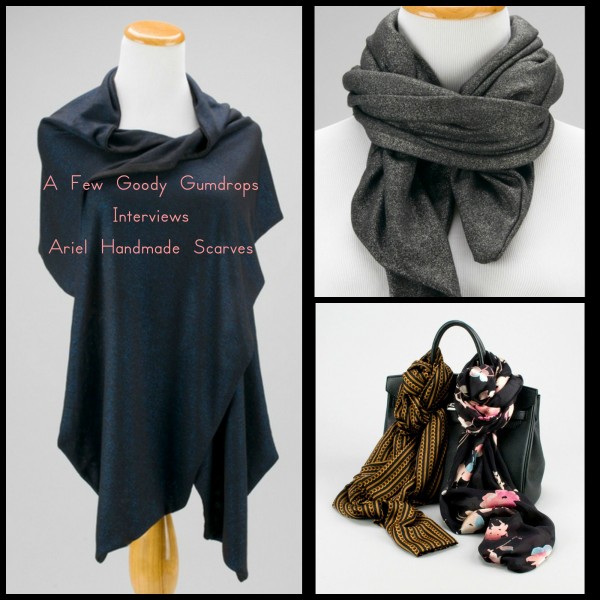 We're so excited to share our interview with Ariel from ARIEL Handmade Scarves and Wraps. Her pieces are stunning with so much attention to design and detail. They're perfect for adding that extra stylish twist to any outfit. You'll be totally on trend! Be sure to click on Ariel's website and have a peek at her latest styles!
1.When did you launch ARIEL Handmade Scarves and Wraps?
I launched my line in the spring of 2013. 
2.Where do your draw your inspiration from?
I draw my inspiration from nature and everyday life. I love to integrate certain colors, patterns and details from many different cultures along with a wide range of textiles.
3.Your range of shades are gorgeous. Are your scarves in seasonal or year round shades?
I combine black with color because I believe the two make each other stronger. I do try to keep the colors seasonal. I definitely think women tend to be more daring during the winter months and opt for bright colors to feel more uplifted on a dreary day.
4. Do you create a specific line for each season?
Yes. During the summer I create wraps in many shades that can be worn on cool nights or to the beach! During the colder months I use wools and heavy cottons. For spring and fall my scarves  and wraps are made of lighter fabrics such as cotton and silk.
5. Where are your scarves made?
I actually hand-make them all myself which gives me a sense of freedom!
6. How do you select your fabrics?
I select my fabrics depending on the quality and the season. Cotton and silk are great fabrics that can be worn all year round.
7. Your scarves and wraps seem very versatile. Are there many ways to wear your scarves and wraps?
They are extremely versatile. Scarves and wraps are the essential accessory to have fun with, whether they're worn as a shawl, belt or a sarong. They are the perfect complement to any outfit.
8.Your scarves and wraps are gorgeous. What is the philosophy behind your scarves and wraps?
The patterns and color combinations are quite captivating to the eye. I want each piece to tell its own story with just the right amount of detail. My scarves and wraps were designed to be classic and timeless for years to come.
9.What is your favorite piece?
I have a few favorites, but I would say the Bright Butterfly Silk Wrap is my personal favorite. It can be worn as a wrap or scarf and the bright-colored butterflies and unique textile surround me with luck and luxury.
10.So many times we buy pieces that are not comfortable. Are your scarves and wraps easy to wear?
Comfort and style are what's important in today's fashion. That's why I designed my scarves and wraps to be luxurious and easy to wear. Just twist, knot or drape and you're ready to walk out the door!
11.Where can your scarves and wraps be purchased.
They can be purchased on my website at arielwear