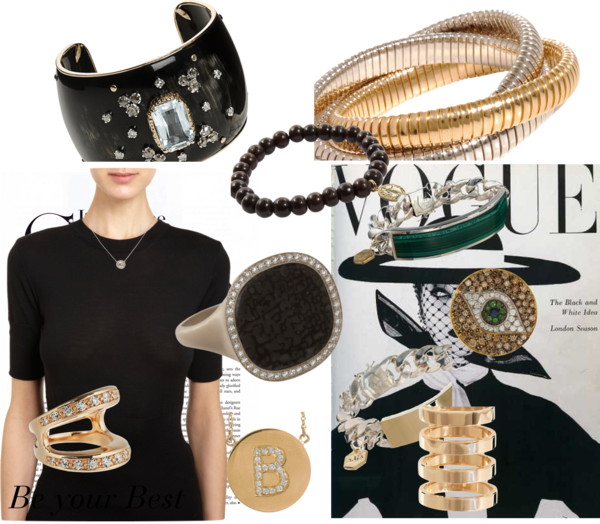 They're the designer's of a few of my favorite baubles. Some I own and some I'm hoping to own! I've been wearing the Jennifer Meyer initial diamond B necklace, Repossi's four row gold ring and Ann Dexter-Jones ID bracelets…the large Malachite and the small Gold/Silver ID bracelet paired with Devon McCleary's Beaded Bracelet (with the hanging charm) for the last few years…almost daily.
Naturally, these have become my signature/spulrge pieces.They can become your favorite jewelry splurges, too! These pieces are sure to compliment any outfit…day or night. We love stacking Ann Dexter-Jones ID bracelets with Devon Page McCleary's beaded bracelet. The more you stack…the better it looks!
Click the link to indulge these fancytastic baubles…Sidney Garber's intertwined rolling Gold Bracelets, Ileana Makri's evil eye Sapphire & Tsavorite Dawn Ring, Hoorsenbuhs 18K gold and Diamond Ring, Monique Péan's 18k Dinosaur Bone & Diamond Ring, Federica Rettore's Zebu Horn Cuff with antique stones, Repossi's Rose Gold Four-Row Phalanx & Berbere Ring,  Ann Dexter-Jones signature ID Bracelets, Jennifer Meyer's Initial Pendant Necklace and Devon Page McCleary's Beaded Bracelet. Honestly…you can't go wrong with any of these designers or my unique choices!
XOXO,