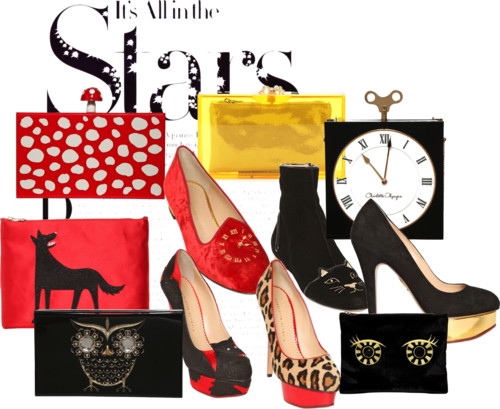 We're totally enjoying Charlotte Olmypia's whimsical eye-catching pieces. That's not surprising since most of her bags and shoes are daringly ahead of the curve. Charlotte's accessories are quickly becoming recognized on STARS, models and ordinary people…like me! Her playful statement accessories compliment any outfit.
We've put together a grouping of some of Olmypia's exciting pieces for fall. We're especially loving the Fashionably Late Red Velvet flats. Not because we're always late…cuz we wear flats most of the time and these one's are so cool with skinny jeans or leather leggings. Don't be afraid to wear red…big color for fall and it goes with almost everything!
We've chosen pieces that we think are magical, fun and very wearable for daytime or evening: Charlotte's Dolly Suede and Gold Leather Platforms, the Red and White Mushroom Pandora Clutch, the Pussy Cat Side Zip Velvet Boots, the Ponyskin & Patent Leather Platform Pumps, She Wolf Satin/ Suede and Glitter Red & Black Pumps, Time Piece Perspex Clutch, the Wolf Silk/Satin Leather Pouch, the Owl Pandora Perspex Clutch, the Lucite Yellow Perspex Clutch and the funky Owl Eye Embroidered Velvet Pouch. Whether you prefer owl eyes, cat eyes or the hands of a clock these pieces will complete any outfit. Click the link to indulge!