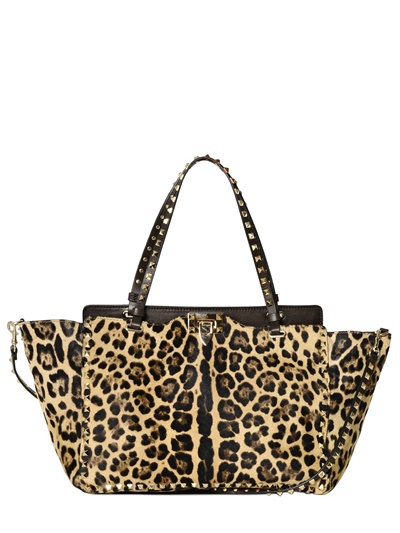 Your closet no doubt is already home to at least a few workday handbags, purses, satchels, etc. You may even have a few high couture items in there as well. The question is: do you have anything that can compare to the classic versatility of Valentino's medium rockstud ponyskin top handle bag?
This racy, all-over-leopard-print bag features a detachable studded leather shoulder strap and clasp closure; and it's made from 100% ponyskin. Valentino pulls out all the subtle stops, including fine attention to the hardware (which is made of platinum and ruthenium metal) and a plush cotton canvas lining.
If you're a fan of leopard print fashion, (we know Betsy certainly is)  you probably already intuitively distinguish between chintzy imitation leopard print and "the real thing." Elements like the fineness of the stitching, the clarity of the colors, the symmetry of the patterning, the structure of the hardware, and overall durability and strength all help determine the bag's worthiness (or lack thereof).
It's so easy to go wrong when constructing a bag like this. For instance, in the Valentino bag, the metal hardware looks elegant, a bit dangerous, and pleasingly solid. An imitation bag might veer too far towards the "S&M" direction and thus cheapen the aesthetic. The print pattern is cleverly cloven midway across the bag, so it almost looks like the wingspan of a gorgeous leopard butterfly. As any student of beauty knows, symmetry equals beauty. So this subtle touch… that is, the coalescing of the spots in the middle…is a nod towards the symmetric ideal.
Whether you are "on the make" for a new designer bag because your three-year-old decided to turn your old one into an impromptu art project; or you're looking to reward yourself (or the woman you love) for something fantastic, like a big career move, a retirement, or a major award in her field, you absolutely cannot go wrong with this symmetrical, bedazzling, purrrrrrrfectly, luscious leopard print handle bag. Click the link to indulge!