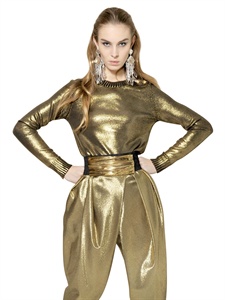 Even the ancient Egyptian Sun God Ra would be impressed by Balmain's glittering, gold flecked, high-waisted Sarouel Trousers and laminated Viscose Knit-Top. If you ever wanted to dress like you look like a million bucks (and then some) — and encourage people to size you up in terms of "troy ounces" instead of "pounds" — then these two luscious delights might just be for you.
Let's take a gander at their specs, one at a time.
The Viscose Knit-Top is radiantly, gloriously French. It features gold colored shoulder buttons and a ridged collar that looks fitting for the wife of an ancient Pharaoh or Mayan aristocrat. The fabric is sheen and shiny — perfect for reflecting the covetous glares of other high society women. And like a lakeside bug zapper, the Balmain knit-top exudes an electric charge – a signal that's both dangerous and alluring. Wearing this knit-top is, in some sense, an all or nothing proposition. It's a lot like the summer ritual of jumping off a 35 foot rock into a lake. You just have to close your eyes and make the leap. (And you're bound to make a huge splash when you do!)
Meanwhile, Balmain's high-waisted sarouel trousers are also luscious. Made with lurex and silk jacquard, they feature a wrap closure with hook and concealed zipper, and a plethora of pockets. These French-made, high-waisted pants are bedecked by an elaborate interlocking diamond pattern. They're the perfect summer pants, whether you're sitting on the board of a big charity fundraiser, MC-ing a television event, or throwing a gala party at your summer beach cottage.
There's a reason most of the world still relies on the gold standard (or something like it) to back up its currency. Gold is a universally adored material, thanks to its versatility, durability, luster, and ineffable gloriousness. Indulge in these two hot, fiery, golden treats, and kick Summer 2013 all the way up to 11. (Adam…you have such a way with words!!!!)