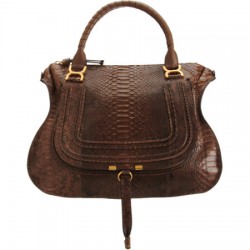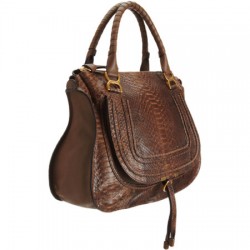 Although I haven't been a huge fan of Chloe handbags the last few years the large Python Marcie Satchel has sparked my interest and possibly my Barney's charge card! This bag exudes "equestrian" chic. Chloe's large Python Marcie Satchel is stunning, perfect from any angle with just the right amount of slouch. The style, shape, skin, warm color and detailing make this casually elegant bag a must-have for any season. We love carrying a large ultra-cool skin bag for everyday.
We'd pair this "gorgeously" perfect bag for a casual look with R13's skinny jeans, The Row's Seeton leather leggings, or a dressier look with trousers and a blazer. The right bag can make you feel great. With your favorite sunglasses, skinny jeans, Wang's Classic Short Sleeve Pocket Tee and the Marcie Satchel dangling from your arm…you know you've got the look going on!
Yes…this handbag is an investment as many seem to be now a days. (charge it…and delay the agony of paying for it right away!) There's nothing like owning a fabulous (natural looking) skin bag that will look even better over time. The Marcie features a top zip python and grained leather satchel with a front flap and an easy slide-ring closure. The leather-wrapped top handles and trim with Chloe's signature gold-tone buckles only add to the detailing of the bag. Chloe's satchel is totally functional with pockets and zippered compartments inside. How can you resist this incredibly stunning bag? You can't….so Click the link to indulge Chloe, R13, Wang and The Row. Carry with one handle or both.