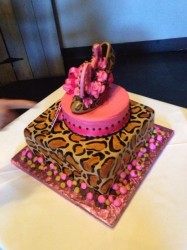 My birthday party was amazing or should I say…MAGICAL!!!! There was a partaaaay for me at Mistral given by seven incredibly wonderful girls or as I referred to them…The Seven Dwarfs…Spendy, Spilly, Shaggy, Sweety, Sleepy, Smiley and Neaty. I was surrounded by my loving family, a wonderful group of (super stylish) friends, the most incredible cake and lots of leopard.
My friends are not only gorgeous but sincere, caring, warm and humorous. Their tribute/poem titled "Ode To Betsy" was hysterical. They didn't miss a thing from my "designer duds" to my love of caramel to putting on my lipstick using a knife! My daughter's poem was also very funny, clever and touching! I feel so blessed to have so many wonderful friends in my life and a fabulous family.
The party was "beyond" and the theme was leopard as my "besties" know my LOVE of LEOPARD. I'm always sporting something leopard. The tables were to-die for with a gorgeous assortment of white flowers, candles and accents of leopard everywhere including Barbie dolls dressed in leopard ensembles. The evening was one of love, laughter, poems, family, friends and an amazing gift card to be redeemed immediately.
Hint….it came in an orange box…so as a faithful fashionista I'm off and running! I also need to thank my fabulous hubby and Mom for making the evening so extra special. Everyone left with a hot pink cupcake in a hot pink box with a big leopard bow! Pictures to follow!!!!!