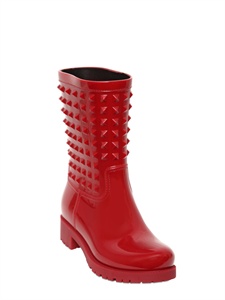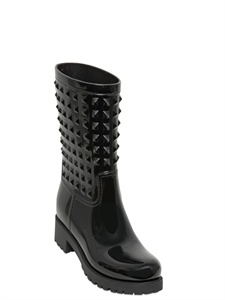 Seems like we've been needing rain boots more than sandals this season. Valentino's latest tone on tone rubber studded rain boots are perfect for splish-splashing and puddle jumping. Yes…they do look very similar to Christian Louboutin's spikey heels…which we proudly purchased in bright yellow. (not everything has to be black)
Valentino's studded rain boots are perfect to jump-start any rainy day. We love the colorful and textured bright red boots which are sure to liven up a dreary rainy day. Rain boots should make a splashy statement….so a bright or detailed boot only makes wearing them more fun. They never get messy looking….cause you can wash them right off.
For those of you who just can't do color and we get that…they come in black which are very cool, too. The boots feature an embossed logo on the side and a treaded rubber sole. The best is…they're the perfect height and easy to pull on and off. If you're loving these rocker-inspired studded boots then click the link to indulge. Have fun in the rain, go for the red and let it pour! If the sun is out be sure to pair with Valentino's studded red sunglasses!