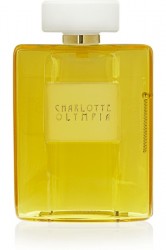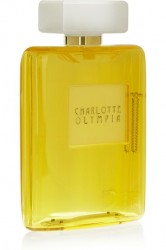 From a distance, you might be confused — astonished even. Is that a giant bottle of perfume slung over that woman's arm? Look a little closer.Turns out, it's actually Charlotte Olympia's latest Paris-inspired concoction: the Yellow Scent Perspex Clutch. This romantic, transparent yellow bag is a delight to the senses, and not just the olfactory ones.
It features a frosted perspex lid, gold tone hardware, sealed magnetic fastening and a designer embossed front. The clutch is the perfect companion for your professional black jumpsuit.Great fashion excites because it jilts people out of their ordinary ways of perceiving the world. Innovative sartorial concoctions force us to look at things (and ourselves) in a new light. But here's the thing. You can find plenty of "attention-getting fashion pieces" out there. Sadly, the vast majority of these are garish, ridiculous or downright offensive. The trick to being haute couture is to grab the right kind of attention in the right way. To intrigue without hitting over the head. To truly provoke but fall short of offending.
This clutch, via a simple visual pun, does just that. And hey! It's also fun. It's a versatile fashion tool, too. Charlotte Olympia is known for its exquisitely crafted, durable products. This bag won't go to pieces on you. Carry it with you to a business meeting with a prospective client. Sling it over your shoulder before a blind date with an archduke or successful commercial actor. You might even have a little fun – mess with people's heads – by spraying it with dazzlingly alluring perfume (just a bit, don't douse it!) so people will actually think there's perfume inside the bag and not your affects.
Fashion is supposed to be fun. What's the point in shopping for bags if you can't get a little outlandish — get people talking about you? Indulge your sensory appetites with this golden treasure today. Click the link to indulge!