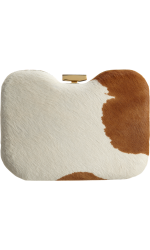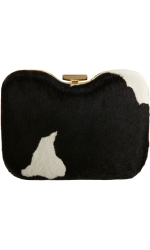 By now you're aware how obsessed we are with animal prints! Enter…Fendi's Calf Hair Giano Clutch in black, white and camel. We're not picky here…we'll take either "side". (We'll explain so keep reading) It's like having two mints in one… remember that old time commercial?
How chic will this undeniably gorgeous animal print clutch look in the palm of your hand or hanging elegantly from your shoulder with the delicate gold chain strap?
We'd pair this stunning tri-color bag with Lanvin's Godet Skirt and Cape Top or more casually with Helemt Lang's Belted Cardigan and leggings. Fendi's quirky shaped clutch definitely brings a touch of "cow chic" to any ensemble. I know that's an older word (my grandma's generation) but we've been using it for years.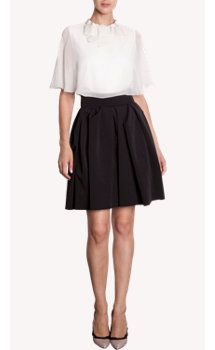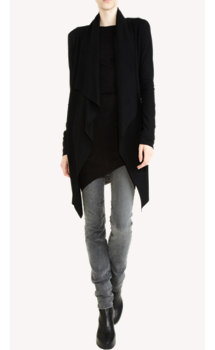 This strikingly tri-color calf hair clutch is timeless and can be worn for any daytime event, evening reception or partee. What do I mean by tri-color? One side of Fendi's structured clutch is white/camel while the other side is cleverly black/white. Very cool and so wearable.
The bag features gold tone hardware, enamel trim and a very delicate gold toned link chain strap. Click the link to shop Fendi, Lanvin and Helmut.