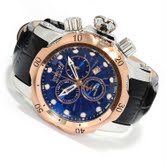 It seems like I'm always giving my husband a wish list for each holiday.Valentine's Day is no exception! My hubby's always great about trying to purchase something really special on my list. It's about "time" for me to choose an accessory he'd love. He constantly uses his iPhone to tell the time. I've decided for Valentine's Day it's "time" for me to invest in a great watch for him! After searching for the "perfect" watch I've chosen one that's synonymous with "innovation". You're asking….what watch?
It's an Invicta and it offers everything my hubby could want in a timepiece. It's stylish, the perfect size, superior craftsmanship, tremendous attention to detail and totally cool. Although my hubby is pretty conservative I've chosen the Invicta Reserve Venom Swiss Made Quartz. I know he'll love the color combination of the strap, bezel and face, not to mention the over-sized dials. It's not your typical boring silver link strap with the white face. It's a statement piece that works great with jeans and a sweater or a three piece suit. Best of all…I love a big men's watch so I'm excited to wear it, too!
Invicta has so many exciting styles to choose from and they're constantly adding new ones to their already awesome collection. They're always one step ahead of the curve and competition, leading the way with masculine timepieces and features that go far beyond just tracking the time and date. With an array of styles and prices, Invicta's luxury watches are within range for every customer. They have an amazing selection! Here's another favorite of mine the Invicta Reserve Men's Bolt Sport Swiss Quartz.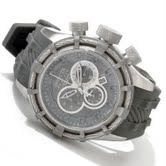 "Invicta was originally founded in 1837  with the belief that high quality, luxury timepieces and affordable pricing did not have to be mutually exclusive. After recognizing a need in the modern market, Invicta CEO Eyal Lalo reintroduced the brand in 1991. By staying true to its 150- year-old originating principle, Invicta has since become an innovative leader praised by industry experts, valued by savvy consumers, and adored by discerning collectors". It's "TIME" to shop and indulge your husband, boyfriend or significant other with a sensational timepiece!