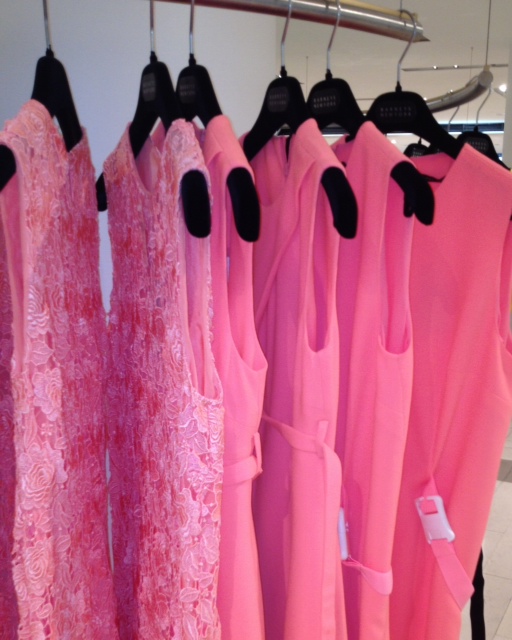 When I saw these dresses all lined up across the room they reminded me of candy canes. Seeing how much I love candy I rushed over to see them and once I got there was so disappointed with the actual style and color which looks better in the photo than in person. My "personal" feeling is Christopher Kane should stick to colored jeans and tops.
The dresses in person were a pinky coral color…more salmon looking (yuck).This has never been on my top ten "color" list. I'm more grey, black, white, navy and cream. Even if I were to wear coral and I wouldn't…the piece would have to be totally amazing.These weren't.They looked like "shifts" from the 60's and 70's and the belt detail resembled a cheaply made plastic seat belt. Anyway, the dresses look better in my photo. You get the picture??? (no pun intended)
Your's truly took the featured photo with Instagram and cropped it myself! Not bad for a throwback photographer from the 70's and I wasn't even wearing my glasses! Took so many photos years ago and developed them, too! The two dresses featured are the Lace Shift Dress ($1,195) and the Buckle Dress ($950). The unfeminine sandals do not help this dress. Click the link to indulge if this look is for you!