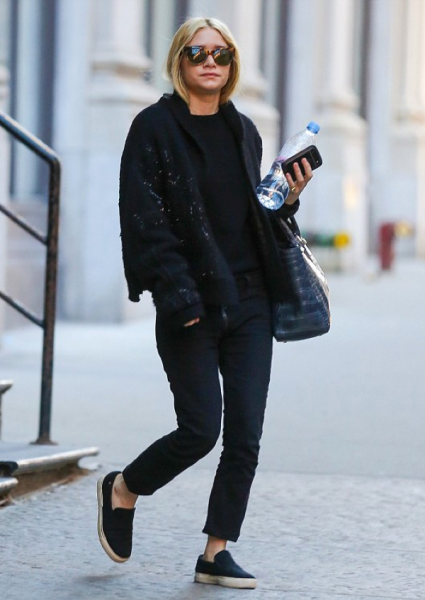 From "ragamuffin chic" to "effortlessly chic" the Olsen twins definitely have
it going on! Having met the twins on two separate occasions in New York City, I can truly say they are very cool, fabulous looking and incredibly sweet.The first time I met them their hair was a tad messy (greasy), no make up and they were dressed and layered in their hobo-y casual but very pricey clothing line, The Row so they had a "look".The second time and more recently they were styled and looked super chic. I admired their casual, funky, simple, signature look and of course, their outfits.
Although, I'm too old for their "whole" look, the clothes, handbags and sunglasses are simple, stylish and fabulous for everyday. I can't get away with that overly layered look. (but can do the coffee cup hold and the pursed smile when posing for a photo) One of my complaints about my favorite line (The Row) is the clothes streeeeeeeetch and often need to have an elastic band sewn in the waistline. Some of the sweaters have been know to loose shape and pill. (do we really care????) The leggings, trousers and leather pants need to be pulled up (very often) after you've been sitting for awhile.These are small matters that can be fixed by an expert tailor!
Let's discuss price…the clothes are extremely expensive and we definitely wait for the sales…which doesn't happen as often as we'd like. If you invest in a pair of their brands leather leggings you can rest assured you'll be wearing them for seasons to come. They never go out of style. I'd love to see the girls all dressed up…I've seen pics and they look smashing. Their look is easy, casual, comfy and effortlessly chic…bottle of water or coffee cup in hand. Mary-Kate laughed after I told her "three" generations were wearing her line or maybe it was Ashley. Many of the pieces in the collection are black, grey, white, navy, tan….the colors we love and wear!
Click the link to indulge anything The Row! Last year I was so lucky to catch Net A Porter's one day sale on their handbags!!!!!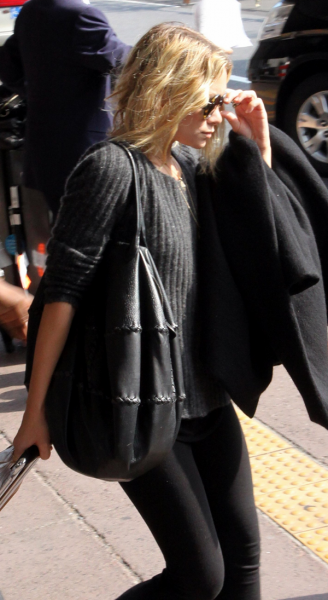 photos courtesy of Just Jared and Olsen's Anonymous