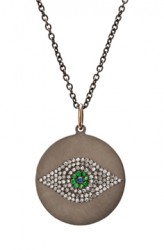 Although jewelry designer, Ileana Makri's Evil Eye Necklace made of 18k gold and sparkling diamonds may not ward off all the evil you may encounter…it's still a fabulous looking piece. You never know…it may just work. If nothing else it's a stunning chain and charm to wear daily. Can't you picture Makri's strikingly trendy and creative piece dangling from your neck just so.
Ileana Makri pieces are inspired by "nature and multicultural symbols" along with her Greek heritage. This "eye catching" necklace features a Titan and 18k pink gold charm with white diamonds, tsavorites, and blue sapphires. This impressively timeless piece can be worn for years to come with skinny jeans and a tee, blazer and trousers or cocktail dress…Lanvin, of course!
There are so many copies of the evil necklace out there so it's refreshing to find one that exudes expert design and craftsmanship. Be sure to check out Makri's matching evil eye earrings, ring and pendant. Just think how much you can ward off wearing the entire "evil eye" collection. Don't get me wrong the pieces look great worn individually,too! Click the link to indulge. Let us know if this "emblem" of evil works for you. To sum up…the piece is fun, fashionable and serves a purpose!