We're so excited about this fashionably chic Giveaway. We've teamed up with the ever-so cool knitwear company…The Third Piece. We're offering our readers a chance to win this fabulous Bee Hive often referred to as an infinite snood or scarf in this luscious shade of lavender. This ultra hip scarf is the perfect piece to brave any cold winter day and will complete any winter outfit! The Bee Hive can be casually draped at the neck or worn slightly higher depending on the outside temperature! This multi-functional scarf can be styled as a hat, hood, or neck warmer. A must-have for the fashion conscious!
The Third Piece is known for it's innovative chunky knitwear collection featuring scarves, hats, gloves, mittens and more. Their philosophy involves the use of essential accessories. They believe one looks more polished with an additional layer especially a knitwear piece. The Third Piece is a lifestyle brand that features hand-made knit pieces in luxurious woolens, beautiful hues and innovative styles. Each piece is made with natural fibers and created with a sense of freedom to layer or drape. The pieces are made with style, comfort and warmth in mind.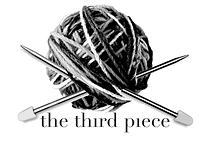 We'd pair this ever-so stylishly warm scarf with leather leggings, a biker chic leather jacket or down puffer, shearling booties and of course, lavender lip gloss. How would you style this scarf?
To enter to win this chunky woolen snood:
1. Subscribe to A Few Goody Gumdrops by email.
2. Leave a comment on this giveaway post using the email address you used to subscribe. Tell us how you'd style this scarf or visit The Third Piece and tell us your favorite piece!
3. Like AFGG's Facebook Page
4. Like The Third Piece on Facebook!
The winner will be chosen at random by The Third Piece. The contest will run for one week beginning 1/23/13 and will end 1/31/23 at 11:59 PM EST. The Third Piece will send the prize directly to the winner, so be sure to provide a valid email address.The winner has 48 hours to respond by email. If there is no response an alternate winner will be chosen. Only residents of the United States are eligible to enter and/or claim the prize.You must be 18 years or older to participate in the giveaway.
A Few Goody Gumdrops wishes to thank The Third Piece for sponsoring this fabulously warm & stylish GIVEAWAY.