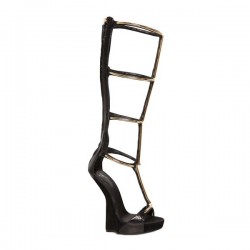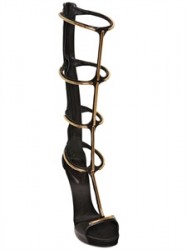 Italian designer, Giuseppe Zanotti, may have actually done it — constructed the most sexy boots ever, in the history of couture. The specs on these 150-mm leather gladiator wedge boots don't effectively convey their je ne sais quoi. Sure, you can boast that they're Italian made, 100% calf skin with a leather insole, lining, and sole, blah blah blah. And, yes, they're sculpted suede with gorgeous gold colored metal piping, etc. But you know the whole "picture = a thousand words" thing? Truer words have rarely been spoken!
These boots could easily pass for the Footwear of the Gods. They look like something Athena herself (or one of fine women in the Pantheon) might have worn. Maybe it's the length of the leather strap… that tantalizingly stretches to highlight one of the most alluring aspects of the female form (the calf). Or maybe it's the five concentric rings that circle from the calf down to the heel. Something about the optics bring out the inherent sexiness of the leg.
You could almost call it a flirtatious X-ray effect — it's as if a nearly thigh-length leather boot got stripped down to its basic essence. Like you're seeing the architect's blueprint as opposed to the finished work. And this "insider's perspective" is fascinating and seductive. These boots are clearly "Red Carpet Event" boots — ideal for wearing to soirees on private Mediterranean islands, Hollywood award shows, and first dates with counts, viscounts, dukes, and other gentlemen of similar rank.
As the old saying goes, "if you've got it, flaunt it." If you have beautiful, well-sculpted legs — especially lower legs — then this electrifying couture creation belongs in your closet now, as in ASAP, as in "mortgage the guest apartment." (Okay, maybe don't go that far, but do consider putting this yummy fashion treat high in your list!) Click the link to indulge!