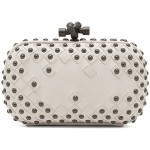 Although we love white bags we rarely ever buy them as we're always afraid of getting them dirtay. (making a mess out of them) This may change momentarily as we're determined to own Bottega Veneta's Leather Knot Clutch in Cloth. (Cloth being the color not the fabric!) The Satin Knot Intrecciato Clutch has been a favorite of ours for the last few years. We're now loving the Waxy Mini Clutch in Cloth which features gunmetal studding detail, suede lining and Bottega's signature metal knot clasp.
With this upcoming season's huge black and white trend having a white clutch will be ever-so stylish. We're so tired of black clutches and always giving in at the last minute and buying boring black.This is the season to GO for a white bag especially one as cool and chic as the Waxy Mini. It's Ok to splurge on white! We suggest pairing it with Philip Lim's Distressed Double Layered Dress in Optic White and black booties.
Bottega's calfskin leather clutch is the perfect size and will hold all those necessary essentials…eye lash glue, concealer, phone and more! The studding detail gives Bottega's clutch an edgy twist on a simply elegant design. This is the perfect of-the-moment gem for an afternoon luncheon or an evening cocktail party and it fits so perfectly in the palm of your hand.
.