Our friend and guest blogger Katie from the ever-so stylish blog…Be Voguish is sharing this very pricey scoop with our readers $$$$$. Mary Kate and Ashley Olsen, celebs turned designers of the very chic and upscale clothing line, The Row have designed a backpack for $55,000 modeled after the calfskin leather backpack they designed for their 2012 handbag collection.
Mary-Kate and Ashley also designed that backpack in crocodile for a mere $39,000.The bag's whopping price tag isn't the most shocking part. According to Ashley, "it was the first thing that sold off the shelf. The backpack incorporated enough design to be "interesting and beautiful," but was still classic.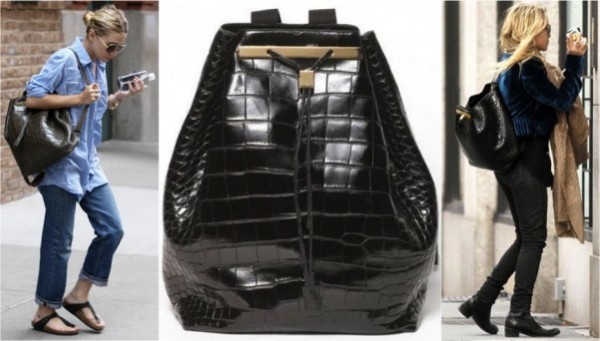 After making headlines for that backpack, the Olsen's are at it again. The designers teamed up with artist Damien Hirst and online retailer Just One Eye to create 9 backpacks decorated with laminated polka dots, laminate pill appliques and painted gold dots which are "meticulously applied to the front, back, and straps." The backpacks, which are made in Italy of black patent leather Nile crocodile, are described as "one-of-a-kind  wearable art work" and are each signed by Damien Hirst himself. A limited number of backpacks were created, which isn't surprising given each bag's $55,000 price tag.
The backpacks will be available starting December 12, after which you have to call Just One Eye to inquire about purchasing and shipping. A portion of the proceeds of each bag will be donated to  UNICEF, but the amount to be donated is "at Damien's discretion." Hopefully the  artist is feeling generous this holiday season so someone other than the super-rich can benefit from the purchase of one of these bags!
We have to give the Olsen twins credit for being among a handful of  celebrities who have successfully transitioned from being actresses to successful fashion designers. Besides heading up The Row they are involved in the contemporary collection Elizabeth & James, the casual contemporary line TEXTILE Elizabeth and James, a t-shirt line called StyleMint, and even a clothing line for  juniors at J.C. Penney called Olsenboye. Earlier this year, the Council of Fashion Designers of America honored them as the top women swear designers of the year for The Row.
A Few Goody Gumdrops wishes to thank Katie from
Be Voguish
for this fabulous article and updating us with the latest Olsen news!