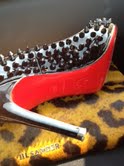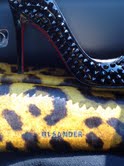 Leave it to my daughter to buy the most high-styled Christian Louboutin heels.This is the same girl who graduated college in my leopard Jimmy Choos years back.I guess she has good taste!!! If you look closely at Louboutin's patent leather high heels with the iconic red sole you'll see tiny patent spikes everywhere. My husband took one look at these spikey pumps and said….Are those shoes or weapons?  Every season you can be sure Christian Louboutin will be featuring the most fashion-forward yet sophisticated shoes.
My daughter wore them with a puffy short skirt, a leather tee and Helmut Lang's black wool lapeless Smoking Jacket. She looked amazing and the Pigalle Spike Heels were beyond chic! (My friends tease me for using the word "beyond" in almost every sentence) Christian Louboutin continues to be a fashion favorite among the young. Given the price point….I don't know how unless they're for-going food!
For the less daring they come in flats! Click the link to indulge Louboutin and Lang. Definitely a lust-have or to some…a must-have!