Ballet Flats were a staple of the early 2010s, but they're now poised for a much-deserved comeback. These days, however, they take on edgier details for a fresh aesthetic!
The resurgence of ballet flats in
contemporary fashion showcases their enduring appeal with a modern twist. Edgy details such as studs, buckles, and metallic accents have breathed new life into this timeless silhouette, infusing it with a sense of rebellious sophistication. The revamped ballet flats of today embrace bold colors, textured materials, and unexpected embellishments, providing a versatile footwear option for both casual and formal occasions. As fashion evolves, these edgier ballet flats offer a refreshing alternative to traditional heels, allowing individuals to express their unique style with comfort and flair.
Alaia's Japanese-Style Ballet Flats
There's no better way to level up your ballet flat aesthetic than by defying expectations with the ALAIA Vienne Cutout Mary Jane Flats. Alaia's Japanese-style ballet flats are a captivating blend of elegance and craftsmanship. Expertly crafted from supple leather, these flats boast a sleek and timeless design. With their flat, rounded-toe profiles and delicate buckled straps, they exude a refined and feminine charm. However, it is the brand's iconic Vienne motif that truly sets these shoes apart. Inspired by the intricate beauty of lace and architecture, the openwork laser-cut pattern adorns the flats, adding a touch of artistry and sophistication to their overall appeal. These Alaia ballet flats effortlessly marry Japanese-inspired minimalism with a delicate yet striking design, making them a coveted choice for those seeking both comfort and style.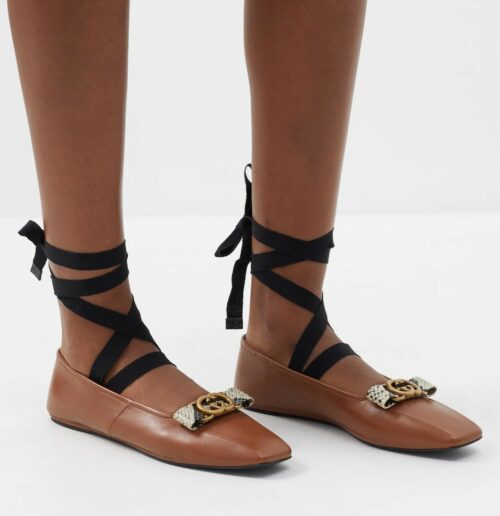 Gucci Logo-Embellished Leather Ballet Flats
Another trendy option featuring a square toe, these cute Gucci flats get their own ankle embellishments from grosgrain ribbons. They're crafted from supple leather and equipped with instantly recognizable 'GG' hardware. A snake-style bow gives this style yet another boost.
The Gucci flats effortlessly blend contemporary trends with classic elements, making them a coveted addition to any fashion-forward ensemble. The ankle embellishments in the form of grosgrain ribbons add a playful touch and create a chic contrast against the supple leather construction. The iconic 'GG' hardware serves as a striking focal point, showcasing the unmistakable Gucci flair. The snake-style bow detail further elevates the style quotient, infusing a hint of exotic allure into the design. With these flats, Gucci once again proves its ability to create statement pieces that are both stylish and unique.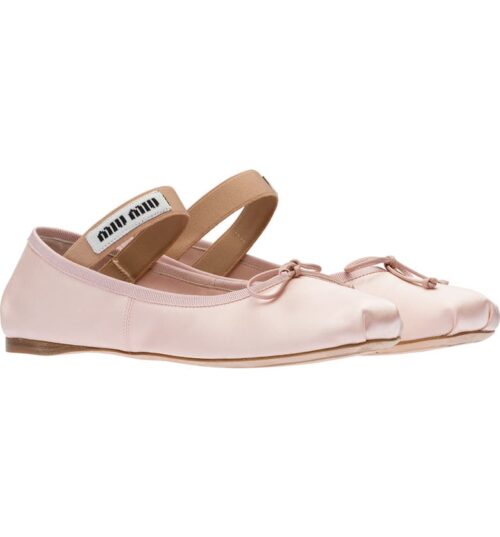 Miu Miu Logo Band Ballet Flat
It's possible to make waves without adopting a square toe for your favorite ballet flats. Miu Miu demonstrates this with a dainty satin pair that will have you looking fully prepared for the ballet barre. Still, these retain an upscale feel with help from the impossible-to-miss Miu Miu logo on the stretch band.
The satin ballet flats from Miu Miu not only exudes elegance but also showcases the brand's commitment to striking a perfect balance between style and comfort. The intricate craftsmanship of these ballet flats is evident in every stitch, ensuring a flawless fit and long-lasting durability. The attention to detail extends beyond the logo, with delicate embellishments adorning the toe box, adding a touch of whimsy to the overall design. These ballet flats are a testament to Miu Miu's ability to redefine traditional silhouettes while maintaining a sense of timeless sophistication.
XOXO,