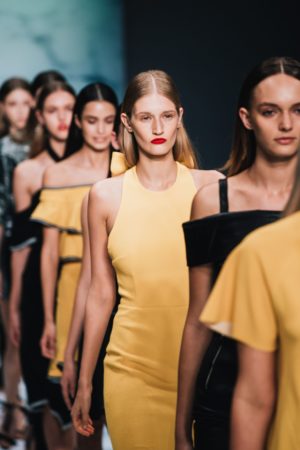 Are you thinking about starting your own fashion line? Just like any other major project, you'll want to start with a prioritized to-do list. Gather information and resources, prepare yourself for the potential hurdles, and hit the ground running. 
In addition to completing the business-focused steps of starting a fashion line, like creating a business plan, you'll want to consider the resources available to creative entrepreneurs today. Various types of software, 3D printing technology, and influencer marketing are among the fastest evolving and most useful resources out there. If designing and selling your own clothing is your dream, you can do it. You just need the right tools. 
Computer-Aided Design Software
If you want to move your designs from pencil and paper to digital format, computer-aided design software is ideal. Adobe Illustrator, Photoshop, and other creative design software allows you to manipulate and work with your drawings in ways you can't get on paper. 
CLO 3D design software is user-friendly and provides a 3D look at your designs on a figure. Work with specific measurements, fabric types, patterns, and textures while easily making changes and fine-tuning as you figure out the practical details of your design. 
3D Printing
3D printing is giving artists freedom by allowing their more complex visions to come to life. The software that works in tandem with 3D printers becomes more advanced year by year, opening more opportunities for ground-breaking, even mind-bending, design ideas. With so many fashion lines already in the market, your creations will need a unique appeal that 3D printing can help you discover.
Product Lifecycle Management
Once you have your fashion line ready to impress your customer base, you'll need to handle production. Here's where the invaluable resource of Product Lifecycle Management (PLM) software comes in. This software streamlines every aspect of bringing a product from ideation to retail for a more efficient process across the board. 
PLM software puts all of your product data in one place that's easily accessible to everyone in your company. Even at the very beginning of a product's life, your designers need to be aware of things like consumer demands, product sales, and even what specific trims and fabrics they have to work with. As the designs are manufactured, keep everyone up-to-date with product sales, sizing needs, seasonal planning, and more. Every part of the process is accessible and understandable to everyone involved in production at any time. 
The fashion industry is evolving more and more into a place where the consumer has higher demands and expectations. PLM software is your ideal partner in meeting these demands successfully and efficiently. 
Enterprise Resource Planning Software
Starting and successfully managing a fashion line isn't just about the product. While PLM software is your ideal resource for handling the creative side of your business, you'll want some help with the less creative side of things. Managing money and people may not be as fun as designing apparel, but it's just as important to a thriving company. 
An Enterprise Resource Planning (ERP) software system integrates many of the aspects of running a business into an easily-managed computer program. Keep track of inventory, marketing, sales, scheduling, finance, future planning, and more in one place. 
This software has continued to develop throughout the years so that now users can access their business management tools remotely using portable devices and smartphones. Employees can even access certain facets of the system for easy data input and information sharing. 
Influencer Marketing
According to Business Insider, 79 percent of brands look to Instagram for influencer marketing, 46 percent to Facebook, 36 to YouTube, 24 to Twitter, and 12 to LinkedIn. This marketing trend took flight in the early 2000s and is continuing to grow with brands spending $8 million towards it in 2019 and a projected $15 million by 2022. 
Influencer marketing is one of the most inexpensive marketing strategies available to fashion startups, and it's extremely effective. Thanks to the rising popularity of video streaming services, TV commercials are becoming less and less effective in building brand interest. However, most people look at social media sites daily, usually multiple times a day. 
LIKEtoKNOW.it is an influencer marketing site that makes it easier to get the brands from influencer to buyer and buyer to brand. Forbes says that this site is driving online sales worldwide in a simple and straightforward way. 
What Are You Waiting For?
After learning about the many resources available to you in your fashion line and design endeavors, there can't be much stopping you now. Don't miss out on your opportunity to see your dreams become a reality and make a living doing something you love. Get started.