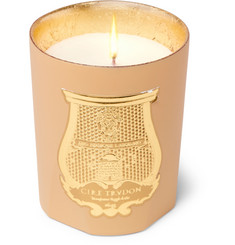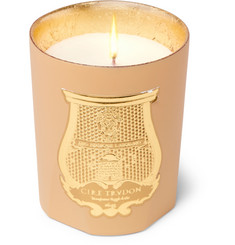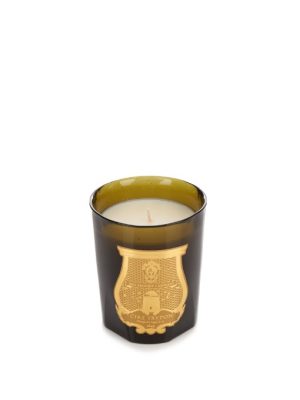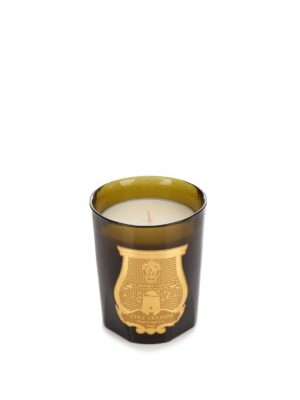 On Betsy's last and only jaunt (they closed) to Jenny Kane's home store in Montecito, she purchased six different
Cire Trudon Candles.
They are fabulous no matter what fragrance you choose.
Gone are the days of gently tousled waves and luminous, sun-kissed skin. In are the days of static flyaways and skin that never seems moisturized, no matter how much lotion you slather on. If this scenario seems painfully familiar, you deserve some serious pampering. Sometimes, this pampering can be as simple as lighting a candle with a divine fragrance. Candles give light and comfort to your cold winter nights, and the luscious scents from Cire Trudon are sure to have you dreaming of warmer days ahead.
Cire Trudon's Odalisque Classic Candle is timeless and perfect for the season. Its scent profile is citrusy and woodsy, and it combines notes of wild juniper, orange blossoms, and vanilla. Its citrus aromas will invigorate you, while vanilla provides warmth and calm. Add it to your bathroom and soak in the tub at the end of a long day. The Giambattista Valli Candle  is another favorite and is just as luscious as his clothing! Combines bergamot, gardenia, jasmine, orange blossom and lily tuberose.
If you're looking for something to guide you through the long winter ahead, try the Lumiere Classic fragrance, which is inspired by the notion of eternal life. The scent is both leathery and floral, with notes of cashmere wood and cedar, and undertones of irises. It's as powerful as it is feminine. A perfect gift to yourself–or to your warrior in arms. Shop Cire Trudon Candles right here! Click any of the purple links to indulge! Be sure to try The Dada Candle, too!