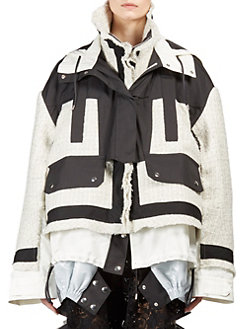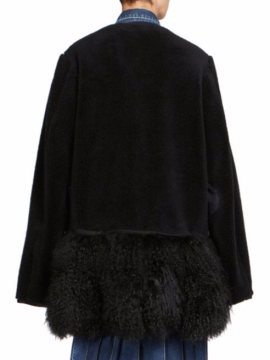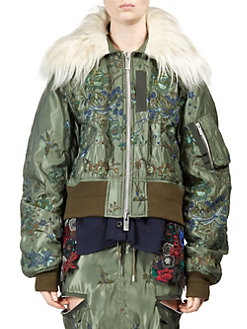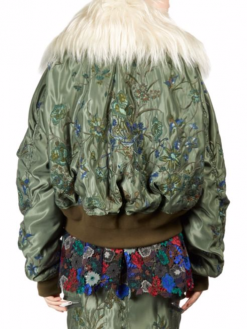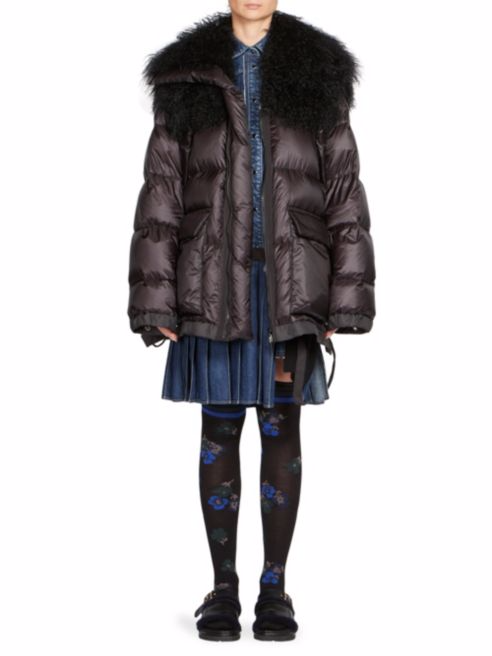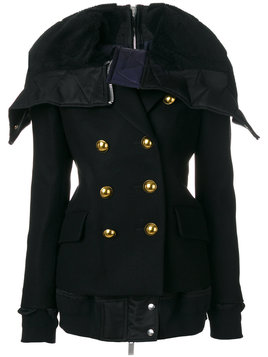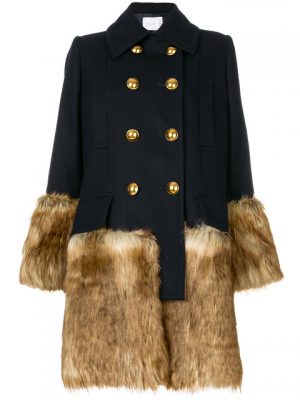 We're all guilty of falling into a style rut – we can only wear so many trenches and make so many homages to Jackie O before it gets tired and we're looking for something new. If you're looking for a way to get out of your fall jacket rut,
Sacai has the solution.
Its fall line of offbeat, irreverent coats will shake you out of your fashion mold and get you ready to take on the town in pieces that will inspire confidence and conversation.
Sacai definitely takes fashion to a new level.
Sacai's Fall Offerings Make a Stunning Statement
The Japanese label has long been known for flouting traditional fashion rules and inspiring others to tread on the daring side. Its fall coats are no exception. Each design is more offbeat than the next, featuring details like furry fringe, mixed textiles, and even tulle. If there's one thing we can say about Sacai, it's that the label keeps people guessing. Loving the double breasted faux fur coat.
One offering combines military detailing on a classic pea coat, creating a look that's both coveted and unexpected. If there's one label you'll want to watch this season, it's Sacai. Pick up one of its coats this season for a talking piece that will last into this autumn and beyond. Featured above: the black and white alpaca wool puffer coat, the alpaca fur coat, the fun floral embroidered jacket in green and the nylon and shearling down puffer coat. For more Sacai click any of the purple links. My fave is Sacai's Military Coat!
Besides wearing the perfect winter jacket, I'm one who really likes to take care of my skin. With the winter months approaching my skin can take a real beating from the cold air. Luckily, I'm always reading up on the latest beauty products. One brand I've heard so much about lately is Kakadu. I'm enthusiastic to try their products especially Kakadu's C Amethyst Clay Detox Mask.
This product "contains 55 times the amount of Vitamin C of Florida oranges". Vitamin C is an important antioxidant that helps protect your skin from environmental factors such as dryness, flaking, and windburn, This product is gentle on the skin in addition to protecting, hydrating, and gently resurfacing. I'm looking forward to using this product that has been dermatology tested and approved. I'm sure you'll find a Kakadu product(s) that will improve and protect your skin! Your skin will thank you! To find out more about this product and others click this purple link.