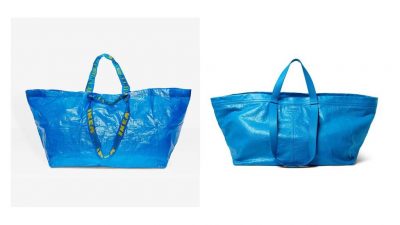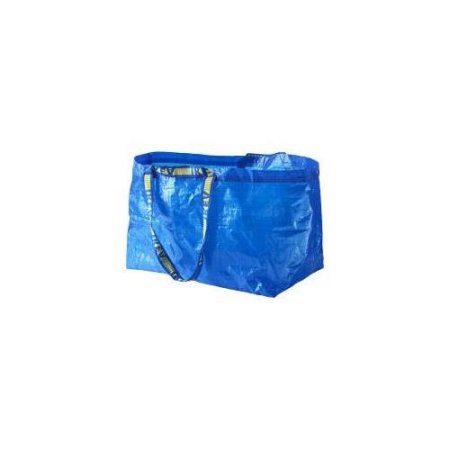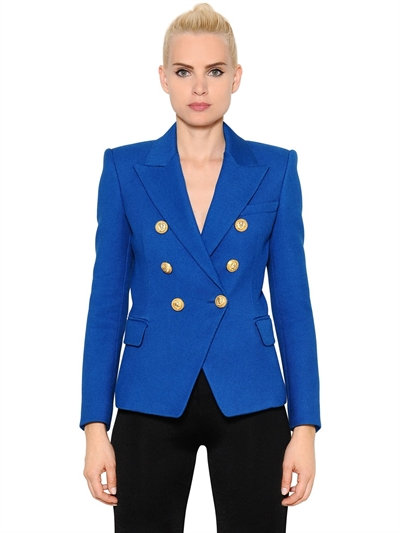 The newest bag to come down the pike is Ikea's bright blue Frakta shopping bag for a whopping 99 cents! (comes in extra large for $4.36) The kicker here is Balenciaga's Arena bright blue leather shopping tote for a whopping 2145 dollars. So when push comes to shove (actually that's what's fashionistas are doing to snatch the one made of polypropylene) which bag would you choose? Difficult decision but I think it's actually very cool to carry Ikea's version (different sizes) which has so many uses. When you're tired of the tote no biggie as the investment has been next to nothing. However….nothing like carrying the real thing! 
Either tote pairs perfectly with Balmain's bright blue blazer with the iconic buttons and lapels.The blazer is so pricey you may want to carry the Frakta.The 99 cent bag can be purchased from Ikea directly.The choice is up to you! Which bright blue tote would you choose? Paper versus Leather?
A rep for Ikea stated:"We are deeply flattered that the Balenciaga tote bag resembles the Ikea iconic sustainable blue bag for 99 cents. Nothing beats the versatility of a great big blue bag"! We have to agree. The bag is made of 100 % polypropylene and is so easy to clean! The Balenciaga made of blue wrinkled, glazed leather is not so easy to clean. Having had two Balenciaga bags, I would say the leather is NOT easy to clean at all. Any bag that's made of bright blue polypropylene can carry just about anything…works for me!
What's next….an orange Birkin made of polypropylene for 99 cents? (Ya right!) Ready to shop? Click the purple links to shop and indulge. Fortunately, you can grab the Ikea shopper right here. A set of five is available, and the storage size is available in a pack of four. Did I mention there's a set of ten and a set of twenty? Decisions…decisions. Oh yeah..a set of two is also available! Any thoughts?