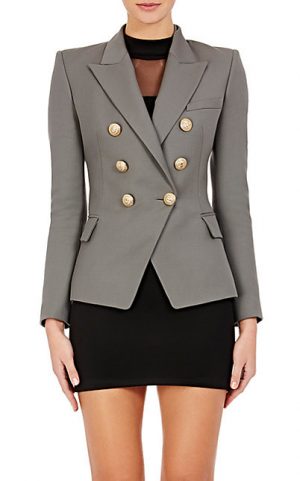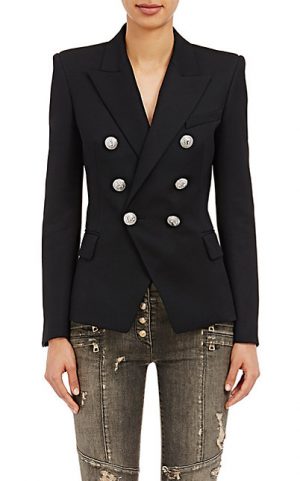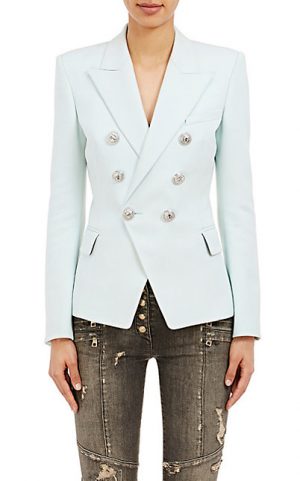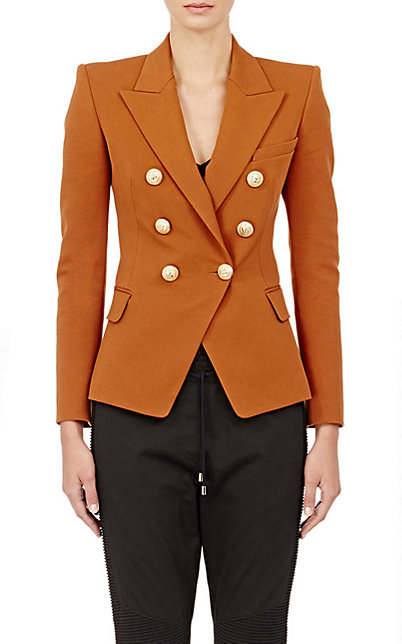 There's nothing better than owning one Balmain blazer, worn with a white and battered grey moto Balmain jeans. (any battered jeans will work)  This jacket is classy and timeless. I love this blazer and had the good fortune of buying one last spring! (black with gold buttons) The jacket's not on everyone's list as some don't love such a structured jacket. Believe me; the blazer looks best unbuttoned (unstructured) with distressed denim. It's too structured and less "cool" when buttoned. When I bought this, a word of caution from the salesperson "don't button". Hmmm…I wonder if he said that cuz I had a little trouble buttoning! (a tad tight) It was on the mannequin unbuttoned. Didn't care "buttoned or not buttoned" as this was a must-have! Anyway…see how ultra-cool it looks unbuttoned? Less structured and more relaxed looking.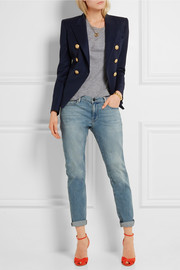 The blazers do vary from season to season with a difference in colors, buttons, and fabrics. I totally love the double-breasted seafoam blazer and the pale pink (not pictured). Since I bought mine last spring…not happening again so quickly. The tattered jeans give a very chic blazer a funkier look. (red shoes are a no-no in this case) Of course, you can wear the jacket with a skirt for a more tailored office look. 
The Blazers are 100% wool, and natch need to be dry cleaned. All blazers feature the lion-head or military-inspired engraved buttons. FYI…the blazer also comes in pumpkin and white. Oh, the choices you'll have. (sounds like a book) Ready to shop these stunning yet sexy jackets? The grey heavyweight color is fab, too. Very difficult decisions. We know the black double-breasted is SAFE and works with so much in your wardrobe. Click the purple links or the actual images to indulge. You can also shop Balmain blazers on AFGG Boutique. In my humble opinion….it's an investment piece that you'll have for seasons to come. The only decision is what color??? (can't stop blogging about these blazers….major obsession) Click here to shop Balmain jackets and blazers!
XOXO,