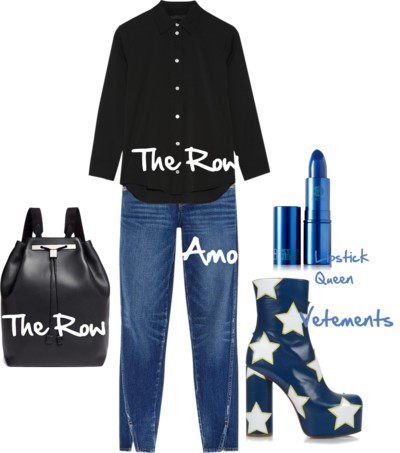 Are you ready for the weekend? I certainly am!
I'm featuring a timeless long sleeve black shirt with some of my favorite staples.
(Well….the boots and blue lipstick may not be a staple!)
I generally like to keep my look simple with one statement piece.
Enjoy my of-the-moment-picks from:
What I love about the Amo Twist Jean is they're worn-out looking but not overly ripped or super destroyed which is getting played out in my book. I own these jeans and this fit is great especially the bottom detailing. Any of these pieces can be worn alone or all together. They all work with so many pieces you already own.
Style Tip: a pair of statements boots is always super cool although your friends may look at your feet first in these trendy star-motif platform boots!
If you're ready to shop, click the purple links to indulge any or all of these fabulous pieces. We know you'll love wearing this look!
XOXO,