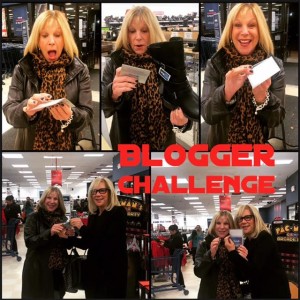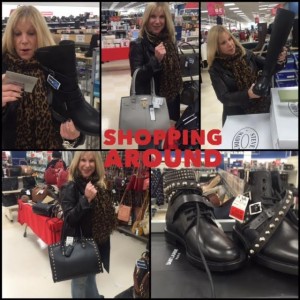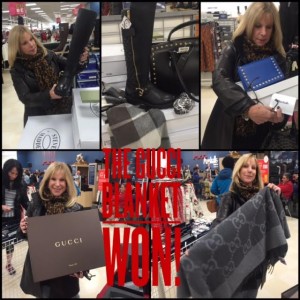 A Few Goody Gumdrops was selected by Marshalls to participate in this season's holiday blogger challenge. We decided to surprise our friend, Linda with this generous Marshalls gift certificate. I explained to a very excited (jumping up and down) Linda that we're going on a "shopping spree" for the latest on-trend designer items. What makes this extra special is that I received a generous gift card to treat myself to a Marshalls shopping spree, too! 
We got in my car and headed off to the closest Marshall's to do some real "shopping" damage. As a lover of Marshalls, I was so excited to show my friend, Linda tons of surprising finds at can't-believe-prices! No better way to dive into holiday shopping than with a Marshalls shopping spree. First we made a mad dash to the shoe and handbag department. We were totally overwhelmed with all the goodies. So many handbags, boots and scarves. Linda went wild. "Oooohhh I love this, Wait this is gorgeous, Wow…I think I like this bag" and so on!  This went on for an hour just in the handbag department! We discovered so many incredible pieces our cart was overflowing. Finally, Linda narrowed it down and made her final decision. As you can see Linda chose a pair of knee-high black leather Steve Madden boots($79.99), a gorgeous Valentino-esque black leather tote with studding detail ($129.99), a stunning soft plaid cashmere scarf ($14.99), and a leopard eyeglass case ($5.99), just totalling $230.96. We completed the blogger challenge, so I thought!
As we were approaching the cash register, Linda spotted a to-die-for Gucci grey cashmere blanket complete with the Gucci box. She was sold! All the goodies went back, and Linda purchased the Gucci throw for her living room sofa. (She did have to add some money) This luscious blanket couldn't be more perfect for Linda's new black leather sofa.
I was also treated to a very generous gift certificate and overjoyed with my purchase. OMG…I found a pair of black leather Valentino ankle boots with the signature pyramids studs in the designer shoe department. The booties were calling my name! (Betsy…over here) I went dashing over to the boots only to discover they were my size!!! I'd been looking at them online from a major department store. (off-the-wall expensive) So excited to wear these stunning ankle boots with my skinny jeans, cashmere sweater and leather moto-jacket. I loved my purchase, too. I'd say Linda, and I completed the Marshall's blogger challenge quite well…designer blanket and designer boots. I was thrilled to spread some holiday cheer by surprising my dear friend for the holidays, and I was treated to a fabulous gift, too. Thank you, Marshalls, for including A Few Goody Gumdrops in the 2015 Holiday Blogger Challenge!