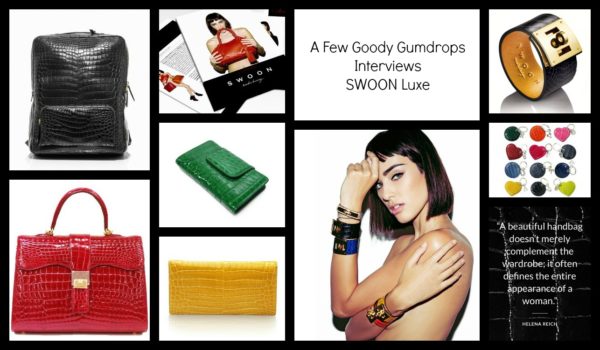 There's nothing more gorgeous than an exotic skin bag. Yesterday, I had the pleasure of interviewing luxury handbag designer, Helena from Swoon Luxe. Her skin bags are to-die-for. I'm sure there are many women "swooning" over her super-chic skin bags! ( I certainly am!) There's probably an incredibly large "wish-list" already on her site. I love Helena's quote, "A beautiful handbag doesn't merely complement the wardrobe: it often defines the entire appearance of the women". That's so true! Her bags really do just that whether worn for daytime or evening. They're the epitome of luxury, elegance and style. Be sure to check out the Swoon Luxe website!
1. Do you agree skin is definitely in?
I definitely agree. My latest lookbook was "All About the Skin" campaign hence the minimal clothing on the models to focus on the exotic skins of my collection. There are thousands of handbag lines on the market, but 99% are made of cow leather or embossed leather. How do I stand out in this competitive industry? You'll find there aren't many exotic skin handbag designers. It's a painstaking and costly process to find the finest materials and employ exceptionally skilled artisans to handcraft the most exquisite creations. So exotic skins are in, but all the more challenging to produce. Luckily, I'm always up for a challenge!
2. Do you have a favorite bag or bags in your collection? I love the size, shape and color (bright yellow skin) of the Allie, and I'm obsessed with the edgy over-sized Reilly Backpack! Helena, can I start a wish-list?
I agree with you Betsy, the Allie Snakeskin Top Handle/Crossbody Bag embodies the current craze with the rectangular prism shape. The color yellow is hot right now and perhaps forever. The Reilly Crocodile Backpack is the most outrageous of all, so audacious to make a backpack with such luxury skin and precision. I also love the new Chelsea Top Handle Bag that will be available in crocodile, ostrich or snake-skin. It has a classic silhouette, but the exotic skin always makes the handbags more unique. Yes Betsy, please start a wish list 🙂 The Allie is featured on AFGG instagram page.
3. When did you realize you were going to be a handbag designer? How did you get started designing bags?
My love affair with exotic skin handbags began when I was a little girl. My mother was very glamorous and beautiful. She exuded elegance and mystery of  "the unattainable" woman. Her chestnut crocodile handbag was one of her most prized possessions.
When I was a child, I wanted to become a concert cellist. I attended The Yewon Conservatory of Music and Art in Seoul. I ended up majoring in finance in college in the U.S. and had a meaningful career in valuation consulting. So, I guess I'm a mixture of business and creativity. I've always been obsessed with luxurious handbags. Before starting my line, I spent the majority of my "funds" on luxury handbags. There are a few handbags I purchased that are still sitting in boxes in my closet. I think I just wanted to own and admire them. Some women carry certain bags because of the status it represents. I'm like that sometimes, but mostly I just love them visually. It only made sense that I would come out with my line of exquisitely tailored skin handbags.
4. What types of exotic skins do you use? Which is the most popular skin?
We use Nile Crocodile, Ostrich, Python, Karung, Lizard and now Stingray skins. Python is definitely the most popular. Crocodile is the "creme de la creme" of all exotic skins. Stingray skins are exceptionally beautiful, too.
5. Do you have fun designing bags? Are you involved in the whole process? Do you oversee the final product? Are your bags made in the United States?
My favorite part is the creative process. I'm not a designer by trade, so I consult with my design team. I'm completely involved in the original drawing of the prototype. Selection of the skins is also done together with my design team. My pieces are handmade in Seoul, Korea. I to have to trust my consultants to oversee the whole process and report every step to me. I have sent back some final products because I didn't like the way they turned out. I'm very picky. It can be frustrating, but I have a fantastic team that I trust. I thought about producing my line here in Los Angeles. It's not about quality or cost because if you look at my collection, you'll find the materials and quality of my products are unparalleled. Rather, it's about the logistics of having the manufacturer within the 15 miles radius. However, I can't compromise the beauty and quality of my products for convenience and in many ways cost effectiveness.
6. What are your price points?
Small accessories start from $250 to $500
Wallets range from $550 to $1,500
Men's Crocodile Belts range from $980 to $1,100
Handbags & Backpacks range from $900 to $10,000
7. Given the prices of your bags do you feel your customer is limited to a specific profile? Who is your customer?
My customers are men and women that invest in beautifully constructed exotic skin handbags. They understand the beauty and luxury of the skins.
8. What's in your accessory line?
Bracelets, key rings, men's belts and wallets. Limited edition men's dress shoes and, women's sandals. Currently, I'm working on crocodile mobile phone HARD covers.
9. Are you constantly adding new styles to your collection?
I have a good portfolio in my current collection. I would like to add about five designs per year.
10. Your bags are unique in the fact that you can choose the size, color and hardware. Great idea. What made you decide to do this?
We all desire having choices especially when purchasing an investment piece. Different skins mean different price points and that helps narrow down your options sometimes.
11. Is a Swoon Luxe bag an investment? If so, why?
It absolutely is! Even if you purchase a lower priced bag, you must take care of it as if it is a trophy you worked hard to earn. I gasp when I see people put their handbags on the floor at a restaurant, worse in public bathrooms!!! Always hang your handbag on the back of the chair you're sitting or better yet, ask for an extra chair for your handbag. When you love something, don't you take care of it?! This is how SWOON will last you a lifetime!
XOXO,