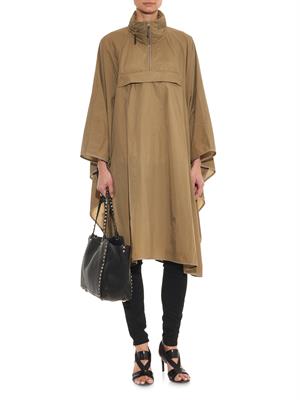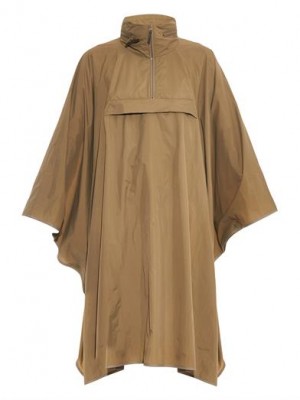 If you live in the Northeast like I do, you're finally putting your winter coat to sleep. Who would have thought it would ever stop snowing? Now it's time to make way for the rain! What better way to embrace the rain than with an easy throw-on over-the-head-poncho from Parisian designer, Isabel Marant. Marant founded her label in 1994 and has been setting the fashion world on fire ever since! (Okay, so we shared one fugly Marant fringed vest 
this season) Ninety-nine percent of her pieces are incredibly cool with a "bohemian vibe". They're cool enough to be worn for a few seasons, but nothing stands out as classic except maybe this season's khaki-green Gamble poncho. Marant's nylon poncho is so easy to wear and even easier to travel with…just toss it in your Goyard tote if you don't feel like wearing it. A nylon-hooded raincoat is one of this season's must haves!
The poncho features wide arms, a funnel neck, and an optional, zip-away hood. Finally a hood! So many raincoats and winter coats don't come with hoods. (so dumb in my book) The poncho looks incredibly chic with skinny jeans and a fabulous bag. Although if it's raining I doubt I'd be carrying a Valentino bag. Click the purple links or the coat to indulge Marant's awesome Gamble poncho-style nylon raincoat and the latest collection of Valentino Bags. Dodging puddles never looked so good!
XOXO,