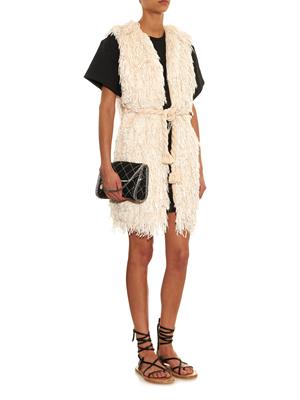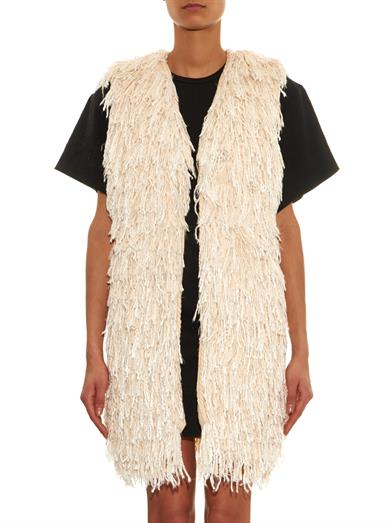 Honestly…I love Isabel Marant, and I know she's now "designer extraordinaire" but I don't know how she gets away with certain pieces. The minute I saw this shaggy-raggy tiered fringe vest…I thought, give me a break. This is for a caveman. Who would actually wear this? In my opinion, designers always push the envelope as far as they can.
While I love the sandals (Isabel Marant Étoile Amy wrap-around leather sandals), and Stella McCartney's mini cross-body Falabella bag (can double as shoulder bag) featured with the cream vest, Marant's oversized fringed  Alfie Gilet in cream is utterly ridiculous looking. That being said….if it's "Marant" it will be sold out! They call this the "hero piece" from her SS15 collection. (huh???)  I truly need that explained.
I typically love pieces with fringe, but this looks like a bathroom rug gone awry in the washing machine. If these pieces are for you…click the purple links to indulge Marant's Alfie Fringed Gilet, leather sandals and Stella's mini cross-body bag) Just saying…would you pay $1030 for Marant's unflattering vest??? 
XOXO,