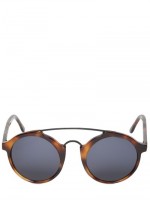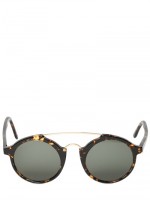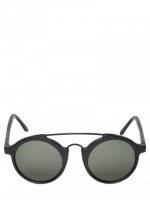 For me, sunglasses are not seasonal. I wear sunglasses every day with a strong prescription otherwise I can't see. I'm always on the hunt for cool, edgy and different eyewear. I've definitely amassed quite the eyewear collection, but now I'm looking for something really unusual. "EYE" spotted L.G.R. sunglasses that combine comfort, detail, quality, and uniqueness. They're handmade of acetate with superior lenses. "All frames are handmade in Italy by expert artisans that use the best technique in order to deliver a very resistant and long-lasting product".
Totally rocking this sleek style in three color combinations from their collection of black frames with black lenses, tortoise-shell frames with blue lenses and tortoise-shell frames with green lenses. One of these funky combos is bound to look fab on your face. I especially love the detailed rounded, metal bar on the top of the sunglasses. They're pricey and once you put your prescription in…even pricier…but if you wear them every day they're easy to justify!!!!
L.G.R. sunglasses handmade in Italy, effortlessly OOZE cool especially with exceptional lens quality. We're so ready to shop this exciting collection. If you like different, oversize and the best-colored lenses….this collection is for you, too! They use Zeiss CR 39 lenses with anti-reflection coating. Click the colored links to indulge these eye-catching L.G.R. Calabar Sunglasses with the ultra-modern edge. L.G.R. is known for featuring the best mineral glass tempered lenses that are anti-scratch and impact resistant. The perfect daytime accessory.
SHOP MORE L.G.R. STYLES