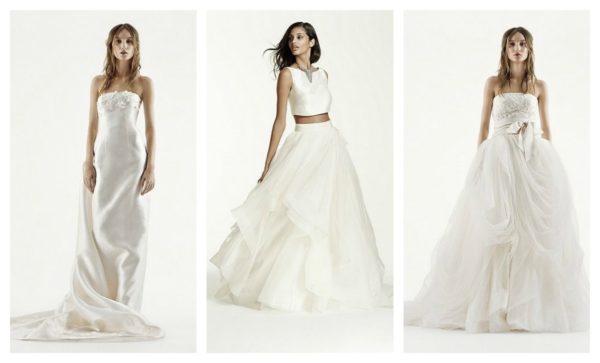 A Few Goody Gumdrops recently interviewed fashion expert, Regina Wootan, Store Manager of David's Bridal in Natick, Ma. (a brand dedicated to brides) This year has been a "big" wedding year for us, having one this past summer and one this upcoming fall. We're in full wedding mode with so many burning questions. We couldn't wait to interview Regina. We're excited to hear about the latest bridal styles, cutting-edge trends, stand-out sashes, headpieces and more! Hope this helps all the glowing "brides to be" with any of their questions and finding their dream wedding gown.
• Every bride wants the newest trends. What are the latest color trends in bridal gowns? Last year blush was the "haute" color. What's this season's "in" color?
One of the biggest trends on the red carpet so far this season has been shades of white – either as the little white dress or the formal white gown. Many brides are following suit and choosing to wear white, soft white or ivory but may add a hint of their favorite color in a sash, jewelry or shoes.
• What is the latest trend for wedding veils? To wear or not to wear? Long or short? If not, what do you recommend for the bride in place of a veil?
Wedding veils are more popular than ever, thanks to celebrity brides such as Kim Kardashian, Angelina Jolie and Amal Clooney who all wore cathedral length, statement veils. While it's a personal preference whether to wear a long or short veil, one emerging trend is the elaborate details. Brides want their veil to be a coordinating piece of their bridal style. Some brides are opting for a simple dress with an extraordinary veil to set the tone for their wedding day look, or others are selecting a veil with details replicated from their dress with lace, crystals, 3-D appliques or embroidery.
For brides who do not want to wear a veil they can still be a princess for their special day by donning a tiara. Embellished headbands featuring crystals and floral accents are another option, as are simple combs and or a blusher. We're also seeing Russian veils, faucinators (head pieces) and bird cages which continue to be a trend. These are great options for brides who choose less traditional veils.
• What are the latest styles in bridesmaid dresses? Long or short? Strapless or Halter?
Lace and soft fabrications are the latest trends in bridesmaid dresses. It is all about finding a fabrication that looks good for the entire wedding party. Some brides are selecting a color and fabric and then letting their bridesmaids find the style that best flatters their figure.
• Latest color trend in bridesmaid dresses?
One of the more popular color trends is the ombre effect, or "hues of". For example, if your color is blue you may select a complimentary color palette and have each bridesmaid wear a different tone so that different shades are featured.
• Many brides wear the sparkly Jimmy Choo Platforms down the aisle. So much money spent on "Choos" you can't see! Any other suggestions?
The most important factor about shoes for the wedding day should be comfort! Think about how much time the bride is going to spend on her feet… she'll want to be able to dance the night away but won't be able to do so if her shoes are uncomfortable, regardless of their price. If brides do opt to wear statement shoes one option in showing them off is to have second shorter dress for the reception. Some brides also opt to change into chic ballet flats, trend-setting sneakers or even flip flops (in the summertime or for a destination wedding). Either way, Davids Bridal in Natick has some fabulous options for all brides.
• Are bridal gowns trending toward traditional, glamorous or sophisticated?
The princess ball gown has been a favorite style and silhouette, but it is about personal preference and finding her unique bridal style. We are also continuing to see the fit and flare to be in high demand. Brides love gowns with back interests, whether that is a low back gown or a beautiful covered back with lace and satin covered buttons from the top of the neckline to the bottom of the hem. Some brides prefer elaborate detailing such as beading, appliques, and lace; others are opting for a clean, simple look. It is all about what best suits her style and personality.
• How much jewelry should the bride wear?
The amount of jewelry a bride should wear depends on her vision for her wedding day look. Some brides want the red carpet glamor complete with all of the bling, others prefer subtle accent pieces. One rule of thumb that is true to all styles is that if it has an embellished neckline you should wear simple earrings and a few bracelets to complete your look. Our accessories department has options for every look, whether she wants to shine bright on her big day or go a more traditional route with classic pearls. We also have options for the non-traditional bride who wants to make a statement with her unique style.
• What are the price ranges in bridal gowns?
David's Bridal of Natick is very proud to have a wide selection of gowns in various price points so that every woman can find the dress of her dreams. Whether she is on a budget or looking to splurge we can help her find the perfect wedding day style. Our wedding gown prices range from $199 to $1900.
• Who are your favorite bridal designers? Any new designers on the horizon for David's Bridal?
That is a little bit like asking which one of your children is your favorite! We love all of our designers, and each is unique in his or her special way. In addition to designer collections such as White by Vera Wang, Truly Zac Posen, Oleg Cassini and Melissa Sweet. We are not ready to announce any new designer collections just yet, but stay tuned – there are some on the horizon!
• How do you bustle a bridal gown? Any tips?
Each gown has its own way of being bustled. We have a well-trained, seasoned alterations staff able to assist our bride in showing her all of her bustle options. It is the final touch to a Wedding Gown and with that said, the most important detail to the finish the look!