There's a reason why celebrities and fashionistas "in the know" love Jennifer Meyer's jewelry creations. You can wear multiple pieces at a time, and she's constantly adding creative designs to her menagerie of treasures. Let's take a tour of four delicate, simple pieces:
Jennifer Meyer Diamond "Love You" Necklace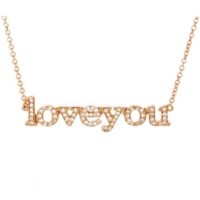 Want to wear your heart on your sleeve (or around your neck)? Now you can, thanks to this adorable loveyou 18-carat yellow gold cable chain necklace. White pave diamonds spell out the words "Love You" – a classy, timeless message. The subtle, effervescent colorations – golds, pinks, whites, and very light yellow hues — create an ocular treat, like cotton candy for the eyes.
Jennifer Meyer Yellow and Gold Diamond "J" Pendant Necklace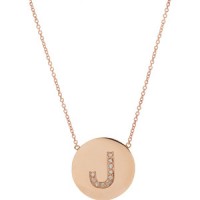 Another luscious indulgence – this initial pendant necklace features white pave diamonds and a 14-carat cable chain. The initial is built into a polished yellow gold disc, and you can layer the necklace with other initials. (Of course, you don't have to go for a "J" necklace if your name is Karen or Wesley or Abigail, obviously!) This piece would make a great gift for your daughter who's expecting her first (be sure you find out the name before you order!) or for your wife (hint hint!) if your anniversary's coming up.
Jennifer Meyer Diamond Small Leaf Pendant Necklace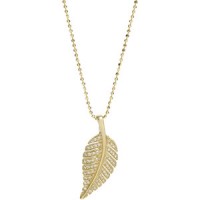 This gorgeous 14-carat ball chain necklace features an iridescent leaf pendant bedecked with diamonds. It's tethered together with 18-carat white gold. Words like "ethereal" and "natural beauty" spring to mind – this feminine treasure captures the Gaiac spirit.
Jennifer Meyer White Gold Diamond Wishbone Necklace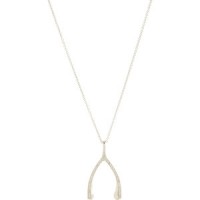 Ready to make a wish? How about a wish for this scrumptious treasure – an 1
8-carat white or rose gold and diamond wishbone pendant
harmonized by a delicate rose gold ball chain. The beautiful symmetry of this piece is empowering — there's an almost yonic symbolism at play.
Jennifer Meyer's creations show that you don't need to ornate or "fancy" to be exquisite and feminine. Explore her sensuous, simple pieces today. I hear Betsy wears her gold and diamond initial B with the JM Buddha necklace!