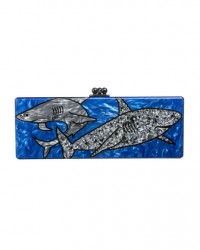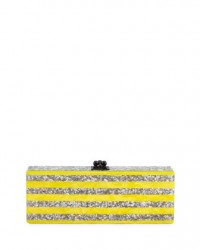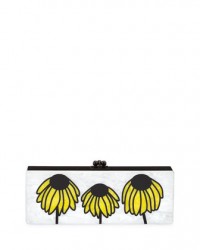 We've been talking recently about parkas, coats, sweaters, and other "heavy" gear. It's about time that we switch channels — add a little frivolity and lightness into the lineup. To that end, let's take a gander at Edie Parker's luscious line of clutches, including the Flavia Striped Star-Confetti Clutch, the Flavia Wilted Daisies Acrylic Clutch, and the Sharks Acrylic Clutch.
Before we pore over the specs on these clutches, here's some background on the Edie Parker line. The brainchild of designer, Brett Heyman, Edie Parker features a vintage aesthetic that borrows heavily from the fashion landscape of the 1950s and 1960s, including metal-flecked designs and creamy textures and surfaces (think of a '50s jukebox, neatly polished). Edie Parker's acrylic pieces are almost like mini-sculptures — they're fun to collect because of their big variations in terms of heft, design, and composition.
But enough about the label – let's talk bags!
Sharks Acrylic Clutch
The bag is savage-looking, but it's also domesticated just enough. It features an image of sharks swimming around a shimmering metallic blue background. Handcrafted in the United States, it comes with an etched mirror interior, marbleized acrylic, and a kiss-lock closure. You can almost hear the tintinnabulation of the waters, as the sharks swim closer and closer – Danger City!
Flavia Wilted Daisies Acrylic Clutch
This clutch is as cute and soft looking as the shark bag is shimmery. It also features an interior vanity mirror, kiss-lock clasp, and hand-poured marble acrylic. The wilted daises are cute (in a non-cloying way). They're reminiscent of a puppy's smile… or the look your cat might give you when she curls up into a tiny ball on your favorite knitted pillow.
Flavia Striped Star-Confetti Clutch
Last but not least, we have this almost "showgirl esque" clutch — a vintage piece that boasts silver and yellow stripes. Like the other clutches in this line, it's made from confetti-flecked acrylic, and it's hand-poured here in the U.S. What's great about this bag is the textural distinctions. You can't help but imagine what it might feel like to run your finger down the alternative smooth yellow and shimmery silver bands.
How many of these luscious clutch trifles will Santa plunk in YOUR stocking this year? Click the link to indulge!