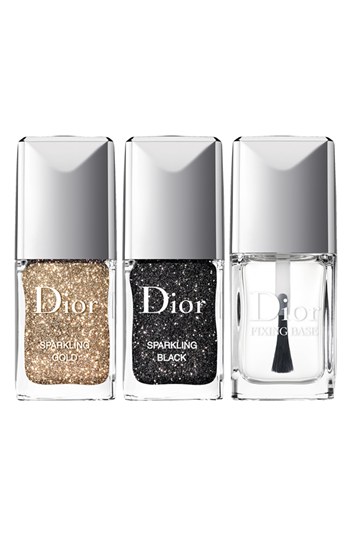 Look what's arriving momentarily!!!! By now you're aware that metallic's are one of this season's hottest trends. So, it stands to reason that your nails should have the latest trend, too. Enter, Dior's gorgeous limited-edition glittering nail colors. They are perfect for your next mani/pedi. Your nails will really pop with that extra gold or black sparkle. So excited to wear these colors as we wear so much black! They'll surely brighten up any look.
The nail lacquer set includes: Adhesive Fixing Base Coat, Sparkling Black Powders and Sparkling Gold Powders. Play up your sparkling nails for daytime or evening and with your latest gold or onyx jewelry!
"Each coffret features two sparkling powders and a special adhesive base coat. The fine powders, in Black and luminous Gold, create a jewel-like manicure. Whether applied to one nail as an accent or as a complete manicure, Dior Sparkling Nail powders create an elegant, brilliant couture finish". Click the link to shimmer and shine.