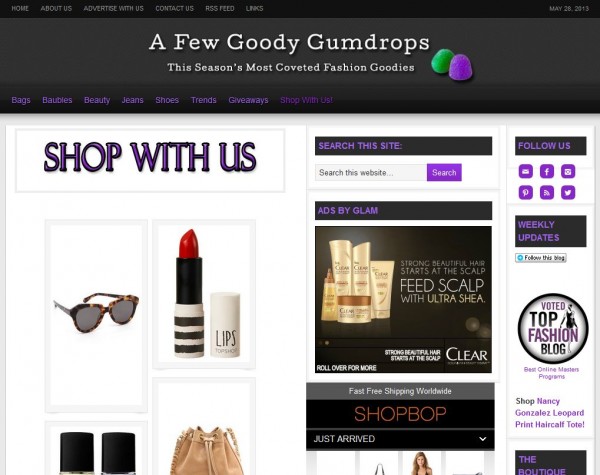 You'll love my latest picks! "SHOP WITH US" along with Valentino, J Brand, See by Chloe, Charlotte Olympia, Saint Laurent, Paige Denim, Proenza Schouler, Kenzo and more! Everyday we continue to add fresh and stylish pieces to our new shopping widget. We just added Chloe Boots, Charlotte Olympia Heels, 3.1 Phillip Lim Leopard Bag, Saint Laurent Biker Boots, Valentino Rockerstud Flats, Isabel Marant Sandals, Karen Walker Sunglasses and more. All the pieces are hand-selected by me! It's sweltering outside….no better time to shop the latest styles than right now in the comforts of an cool air-conditioned spot!
If you're like us and you're up all hours of the night…we have the best solution! Now you can shop the new shopping widget on A Few Goody Gumdrops! Click the Shop With Us link on our bottom black tool bar…right under the heading A Few Goody Gumdrops. In bright purple you'll see the words…Shop With Us! Now you can shop Betsy's top picks in our new spot. We're always providing you with your favorite designers and so many fabulous pieces to choose from! AFGG loves options.
All our fashion finds and hottest trends including makeup, sunglasses, and handbags are now easily accessible in ONE place. We'll continue to share specific shopping links in our daily blog posts but now we're sharing one whole page of our faves in one super stylish spot. We're hoping this will make shopping on A Few Goody Gumdrops so much easier. We'll be featuring some of the latest looks at affordable prices.
Click any of the purple links above to begin your SHOPPING SPREE!