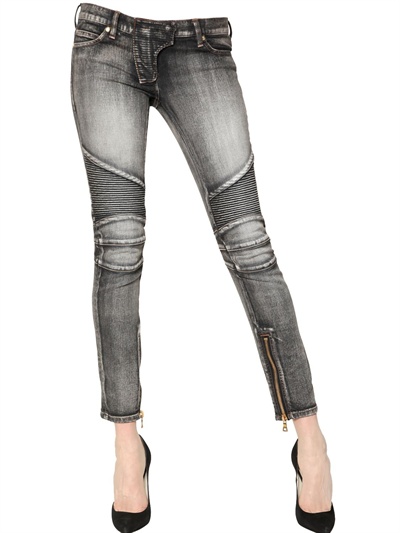 If ever a pair of jeans have inspired me to lose a few pounds these are it! Balmain's Quilted Stretch Denim Biker Jeans are totally cool with their own signature detailing. Their edgy pattern and design adds a funky twist to a typical pair of casual jeans. Naturally, the price is anything but casual. That being said…Balmain's jeans are ultra-stylish with all their intricate detailing from the ankle zippers to the quilted inserts on the front and back panels and remain timeless. The jeans are so unique no-one will ever know what year or season they're from. (they've been featuring them for years) Key pieces such as these jeans are here with us for years and years. It always comes back to the established "tried & true" designers. If you wear jeans everyday…why not own a pair that are different than the mainstream jean.
There are so many options to wear with these jeans…heels, flats, sneakers, ankle booties and as the winter approaches…shearling boots. I'm more comfortable in a flat or bootie when I wear jeans. I know it's cool to wear heels…but  that's not my look. (heels do make you look taller, thinner and sexier!) I'd pair these jeans with Kenzo's Velvet Tiger Loafers and a simple summer Silent By Damir Doma white or black tee. Kenzo is definitely enjoying a resurgence from years ago. Be sure to check out Kenzo's collection when clicking the purple link.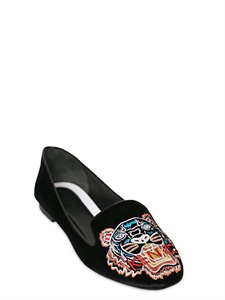 I love owning jeans that have an edgy fashion-forward look. That's why I'd wear a simple tee, tank, sweater or shawl. Balmain's jeans are also available in your typical blue denim color and come without the quilting. Click the link to indulge in Balmain's statement jeans, Kenzo's flats and Damir Doma's tees.