Kimono Jackets: The Ultimate Lightweight Summer Layer!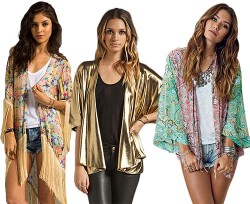 No matter how hot it gets outside (and here in San Francisco, that's hardly very hot at all), I'm all about easy, effortless layers. Since I practically live in jeans, tanks, blouses, and other easy-to-wear basics, I pretty much rely on statement-making layers to make or break an outfit and switch things up. For summer, kimono jackets are the perfect laid-back, lightweight layer that's comfortable and simple to throw on, but makes a major impact.
Add some romantic flair to your dressed-down denim cut-outs and tank combo for day, or amp things up for night with some leather leggings and a pair of strappy sandals. From boho-inspired paisley print to festive summer floral, or even some sexy metallics – the possibilities are nearly endless! Bonus points if you top things off with a floppy hat for the perfect summer.
XOXO,