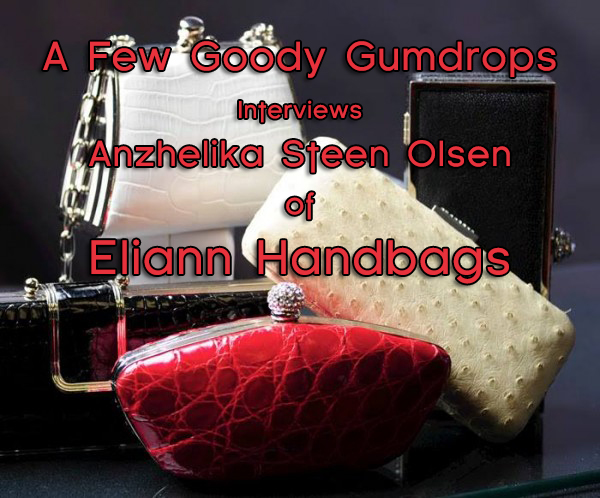 A Few Goody Gumdrops had an amazing interview with luxury handbag designer, Anzhelika Steen Olsen from Eliann Couture. What an incredibly talented person and one of our favorite interviews. We hope you enjoy reading Anzhelika's interview with AFGG!
1. I love this statement you wrote. "Fashion to me is a force way beyond good taste. It s an escape that sends a message. At times it's just taking a risk, encompassing social, cultural- even psychological styles. It is a reflection of who you are but more importantly the joy you derive from it'. How does this transfer to your handbags?
For all designers it's impossible to be a creative with out taking risks, as it involves moving beyond the bounds of what has already been done. But it's just as risky not to misplace our interest. On the other hand the relevance of a handbag as one of the cardinal ways women communicate, fitting in, using it as a social symbol and a glamorous and impenetrable chaperon is just as essential. I recently read somewhere that being adventurous with your clothing choices can influence your happiness. Women attach emotion to clothes and what we choose to wear can directly impact our mood. I believe that accessories, particularly handbags are the easiest and most accessible way to liven up your wardrobe. Being that Fashion is about self-expression we have to make sure we have fun with our choices. For those who dare, it translates to empowerment of women, being courageous, positive and playful at the same time.
Women can change a handbag when ever the mood strikes, several times a day for different occasions or simply choose one that goes best with an outfit. She can be girly and feminine, trendy and modern, urban or classic. The way we hold our bag can immediately change the way carry ourselves. It  sends a message in a way that reflects but not necessarily defines who we are…rather, it's simply the joy we get out of it!
2. When did your launch your fabulous collection? Did you know this was something you always wanted to do?
Eliann was launched in Jan 2012. Ever since I was a child, I've always been drawn to fashion. Albeit, if you told me ten or even a couple of years ago, that I'd be starting my own company or pursuing it as a career choice and loving it as much….that would have been my wildest dream.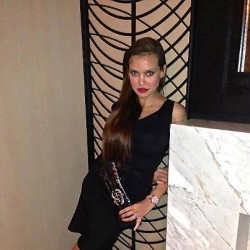 3. Do you present a new collection every season?
Ideally, exotic skin handmade handbags are considered an investment, a one-of-a-kind accessory that celebrates a woman's individuality, as well as fits her own personal style reflecting timeless classic expression, and thus are not made for every new season. But at the same time for me an Eliann bag is also one that makes a powerful statement, truly separates one from the masses and inspires me to do extended custom work for celebrities, clients and friends.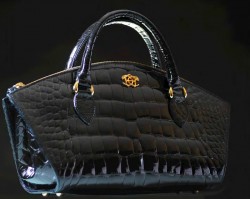 4. Do you feature that one "stand-out" bag every season that you maybe known for?
In a collection of Eliann day-bags, the Irishka bag sack is requested, asked and written about the most! As for Eliann clutches, there's such diversity in the level of design, that it's like having to describe which one of your children stands out more.
5. What materials do you use to make your handbags? Do you use exotics skins?
Crocodile, python, lizard, ostrich, lamb and I recently experimented with metal and Swarowsky elements.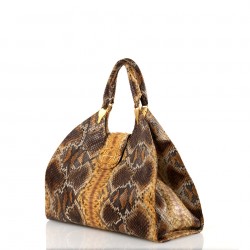 6. How much are you involved in the actual production of the bags?
All Eliann bags are proudly made in the USA. Keeping my studio local allows me to be very hands on in the design, production and quality control.
7. How excited do you get when you see someone carrying one of your bags?
Having started making one of a kind bags for my friends, it s always nice to see Eliann street style in hands of other bold, feminine and sexy women.
8. Are your bags more for evening, casual wear or both?
Initially, I made niche pieces because I was too involved in the process of creation. Gradually calibrated to making everyday bags and more uniquely functional daytime clutches.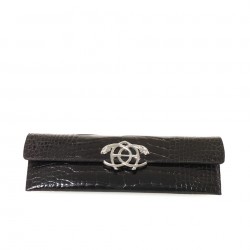 9. Do you have a celebrity following?
Halle Berry, Kerry Washington, Katheryne Winnick, Nicole Hanley Mellon..just to name a few.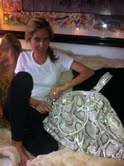 10.Where do you see yourself in five years? Do you hope to open your own free standing boutiue?
Department and specialty stores. Custom Line for accessories and perhaps a Downmarket Line for HSN. It would be nice to own my own boutique, I'm just not sure if that s something I want."
11. We always have to ask….What are you favorite fashion blogs?
The Sartorialist, Fashionista, Henley Mellon and of course A Few Goody Gumdrops to name a few. You can view these stunning bags right here!