Looking for the perfect nail polish? The newest shades of the limited-edition Pierre Hardy for NARS Nail Polish Pairs are sure to please. The collection consists of six strikingly gorgeous nail enamel sets and coordinate perfectly with Pierre Hardy's fashionable summer shoe collection. These nail polishes are so pretty for summertime. You definitely can't go wrong with whatever of-the-moment color you choose! Are you ready for this? The polish pairs come in mini inspired Pierre Hardy shoe boxes with traveling "polish" covers!
Now your nails and toes can match your shoes! This is one of those times when "matchy matchy" works! We're ready to paint the town in yellow and purple. Of course…we're going to buy Hardy's matching strappy high-fashion shoes. Alternate…yellow, purple, yellow, purple, on the toes for a real trendy look.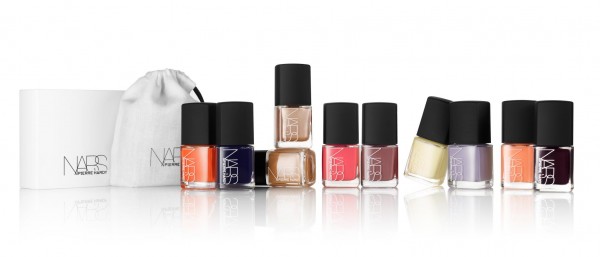 Available at Bloomingdales, Barneys New York, Neiman Marcus and Saks Fifth Avenue.