Whether you consider yourself a cougar (a la Courtney Cox) or a young huntress (a la Taylor Swift), you have a serious "feline side." You love high quality animal print couture, but ONLY high quality. The line between "looks like something a Milan runway model would wear" and "looks like something I wouldn't be caught dead going to Walmart in" is surprisingly thin.
In that light, consider Kenzo's animal print cotton blend Twill jacket — paired elegantly with Kenzo's patchwork leather and twill shoulder bag. They may be just what the fashion doctor ordered.The sensual composition, taut design, delicious materials and enticing patterns create an exotic, compelling concoction.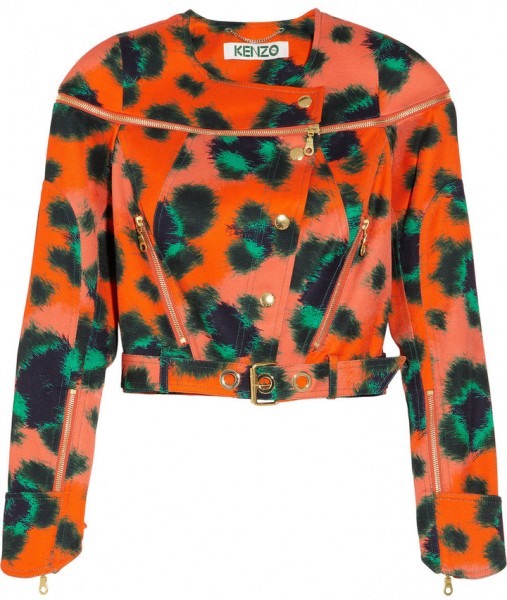 Let's check out the specs on these "roar-worthy" items.
The twill jacket features an orange, green and navy animal print pattern adorned with gold hardware and a subtle, cute belt at the hem. Kenzo's Carol Lam reveled in the unique charms of this jacket at a recent spring runway show: "we wanted to start from the beginning, to breathe new life into the idea of the jungle." Pair the jacket with simple bracelets and a complimentary clutch, like Kenzo's patchwork leather and twill shoulder bag!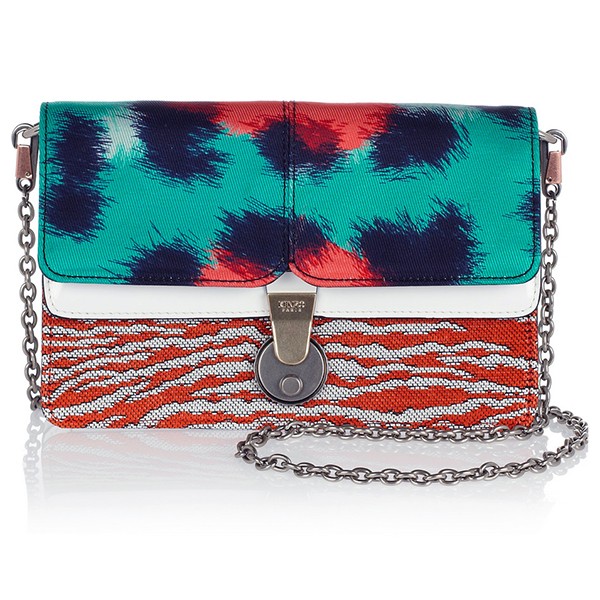 This clutch takes the jungle color scheme to the next level – much more green, set off by multicolored raffia. It features a slit pocket and lock and fastening compartments that glide so smoothly, they feel like Mercedes technology.This bag is tough enough to take the day-to-day abuses you inflict at work and elsewhere. The color scheme recalls the hues of exquisite stones like azurite, malachite, mother of pearl, and other opalescent gems. You might never find a creature in nature (except perhaps in the densest Amazon forest) that has colors quite like the green-orange-black of this bag. But the scheme nevertheless looks realistically exotic — almost like an analog of the peacock's brilliance. Explore your animal side with this awesome jacket and bag combo! Click here to indulge Kenzo.