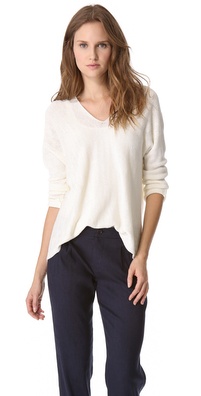 Every season we're on the HUNT for that ONE safe top that works with almost everything we own. Doesn't need to be super funky, soaringly pricey or ultra cool…just needs to look great and serve as that go-to staple that we'll run to…maybe even too much! Vince's Double V is the perfect "I know what I'm wearing today" piece. By the way, it's called the Double V cuz back and front are the same.
I personally have several tops from Vince and find they're extremely wearable, stylish and reasonably priced. Vince's Double V top features long dolman sleeves, an asymmetrical hem that falls lower in in the back and braided trim around the edges. We love the relaxed silhouette of the slouchy Vince sweater especially with the pushed up sleeves. Looks great paired with skinny jeans, Vince's Buckled Bermuda shorts or Vince's leather leggings.
The best is….the top doesn't need to need to be dry cleaned…HAND WASH! FYI…we hand wash as much as we can. Click the link to indulge Vince's Double V and peruse the collection! Here's betting you'll buy this top in Apricot, too! Click the Saks banner adjacent to this post to shop Vince or click here for tons of fashionable goodies!