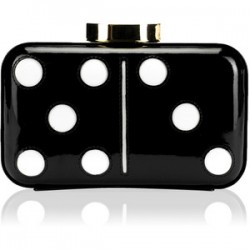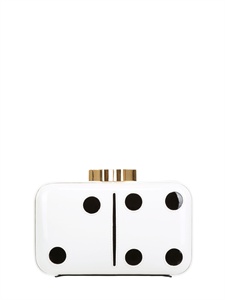 It's spring and it's time for a whimsical clutch especially keeping with this season's black and white trend. Lulu Guinness whose known for her exciting collection of cutesy/funky bags introduces the Fifi Domino Clutch. Lulu's bags are meant to be fun and add a whimsical touch to your outfit. We're getting ever-so tired of serious summer bags.
The clasp features Lulu's signature pair of kissable red lips trimmed in gold tone color. Definitely one of our fave's to carry and will surely perk up any monochromatic black or white outfit. Cool with skinny jeans, too!
Guinness's Domino Two Face Patent Leather Clutch is like having two bags in one. Very versatile! One side is in black patent leather, the other side is in white patent leather, maintaining the classic shape clutch. Whatever your mood…you can use either side. We'd pair with black and white polka dot nails for a totally trendy look. The bag is not only playful…it's  head turning and every fashionista should own at least one Guinness bag! For a super chic look pair with Balmain's black and white look. We think the dots and stripes are a match! Click the link to indulge.