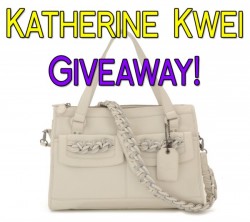 We have a winner! We've chosen, MC from Pearland, Texas as the lucky winner of the Lulu Tote by famed fashion designer, Katherine Kwei. The Lulu Tote is casually chic for jeans, practical for office attire and glam enough for lunching with the ladies.This timeless handbag and can be worn for seasons to come and retails for $700.
Here's what MC had to say:"Thank you so much, you've definitely made my day!! I am so ecstatic to be your winner for the Katherine Kwei Lulu Tote! Thank you for this beautiful and generous gift! I am beyond excited to wear this gorgeous handbag! I am such a happy girl right now."
A Few Goody Gumdrops wishes to thank Katherine for sponsoring this amazing giveaway! We hope you'll continue to follow A Few Goody Gumdrops and Katherine Kwei on Facebook!
XOXO,