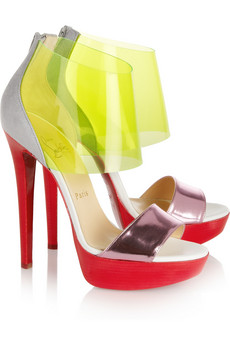 What are the roots of Christian Louboutin's Dufoura metallic-leather, PVC and suede sandals, from a fashion-historical perspective?
Depending on how you view these pretty neon red platform heels, you can see elements of:
• Andy Warhol's Pop Art movement;
• Disco couture;
• Modern fashion fusion couture;
• Blade-Runner style futuristic couture;
• Much more!
The product gets you thinking. Isn't PVC supposed to be for piping and industrial applications? Should metallic-leather really be combined with pop-art-y colors, like bright yellow and succulent cherry red? Can "suede" and "PVC plastic" really coexist on a wearable garment?
This concatenation of fashion ideas somehow works, and it works amazingly well.
Christian Louboutin products have a great reputation, of course …they're snugly made from high quality materials. These sandals are no exception, and they feature gorgeous materials…the red leather soles come to mind…as well as precision stitch work.
Cool bonus: the sandals mesh well with many types of outfits.
• Wear them out to a Michelin two star restaurant on the beach, with your new mega multi-millionaire boyfriend.
• Slip on these heels to go out clubbing and dancing (although easy on the "dancing" part, since you don't want to totally destroy your ankles) at a loungy oceanside night club in Santa Monica or on the North Shore of Oahu or even Boston!
• Wear them to work on a warm day in early spring to snazz up an otherwise ho-hum corporate work uniform.
Why do these sandals work so well?
Good question. Perhaps it's the happy color combo of bright yellow and succulent cherry red. Against the metallic background, those colors recall the best, brightest memories of the beach. Now that Old Man Winter is finally gasping his last chilly breaths of the season…and Mr. Sun is returning from his vacation to bless us with his precious amber beams of warmth and love…maybe it's time for a happy treat for your feet. Consider it! Click the link to indulge.